Analyzed Question Quality of School Examinations Class IX Science Subjects
Maiyusri Eka Putri

Universitas Negeri Padang

Syamsurizal Syamsurizal

Universitas Negeri Padang

Lufri Lufri

Universitas Negeri Padang
Keywords:
Analysis, Question quality, School exam
Abstract
The quality of the items on the instrument affects the results of the class IX students' school exams. As an evaluator, the teacher has not conducted an analysis of the school exam questions. Therefore, it is not known the quality of the items and the accuracy of the students' test results. This is evidenced by the low results of school exams in the last three years. The Circular of the Minister of Education and Culture regarding the elimination of the National Examination, requires teachers in each Education Unit to make quality questions. Quality questions were identified by analyzing the items. This study aims to analyze the quality of the school exam items given to class IX SMP students. The quality of the items analyzed was based on the aspects of validity, reliability, level of difficulty, distinguishing power and quality of distractors. This type of research is a descriptive study. The population is all answer sheets of students who take the Science Subject School Examination of SMP Negeri 1 Lengayang in the academic year 2020/2021, totaling 232 copies. Samples were taken by simple random sampling technique and obtained 100 copies. The type of data is secondary data and data collection using the documentation method. Quantitative data analysis used Anates version 4.0.9. Based on the results of the analysis, it was found that the validity of the items was low with an xy correlation of 0.48, high reliability with a value of 0.65, good distinguishing power with good criteria of 36.7%, moderate difficulty level with moderate criteria 66.7%, and the quality of the distractor is not good with less good criteria 30.7%. In conclusion, the quality of the grade IX school examination items in science subjects at SMP Negeri 1 Lengayang in the academic year 2020/2021 is not yet a good criterion.
References
Ahmad, N. (2015) Buku Ajar Evaluasi Pembelajaran. Yogyakarta: Interpena.
Amrianto. (2017) 'Analisis Soal Ujian Tengah Semester II Mata Pelajaran IPA Kelas VIII SMP Pembangunan Laboratorium Universitas Negeri Padang dan SMP Pertiwi Siteba Padang Tahun Pelajaran 2015/2016', pp. 1–14.
Ardi, A., Syamsurizal, S. and Muttaqiin, A. (2018) 'Clasroom Classroom Based Assessment Development for Improving Science Teacher's Competency in Secondary School at Koto Tangah District', Pelita Eksakta, 1(1), p. 10. doi: 10.24036/pelitaeksakta/vol1-iss1/24.
Dewi, N. P., Rahmi, Y. L., Alberida, H., & D, Rahmawati. (2020) 'Validitas dan Reliabilitas Instrumen Penilaian Kemampuan Berpikir Tingkat Tinggi tentang Materi Hereditas untuk Peserta Didik SMA/MA', Jurnal Eksakta Pendidikan, pp. 138-146.
Friatma, A., Syamsurizal, & Helendra (2017) 'Analisis Kualitas Soal Ujian Akhir Semester Genap Mata Pelajaran Biologi Kelas XI IPA SMA Negeri Wilayah Selatan Kabupaten Solok Tahun Pelajaran 2015 / 2016 Analyzed Quality Question of Final Exam Whole Semester on Biology Course Class XI IPA SMA Negeri D', Bioeducation Journal, 1(2), pp. 50–67. Available at: http://bioeducation.ppj.unp.ac.id/index.php/bioedu/article/view/43.
Iskandar, A. & Rizal, M. (2017) 'Analisis Kualitas Soal Di Perguruan Tinggi Berbasis Aplikasi TAP', Jurnal Penelitian dan Evaluasi Pendidikan, 21(2), pp. 12-23.
Kemdikbud. (2016) Panduan Penilaian Oleh Pendidik dan Satuan Pendidikan untuk SMP. Jakarta: Kemdikbud.
Kemdikbud. (2019) Buku Penilaian Berorientasi HOTS. Jakarta: Dirjen GTK Kemdikbud.
Latif, Z. M. and Yogica, R. (2019) 'Analyzed of the Quality of Midterm Exam I Questions for Grade VII Science Subjects in SMP Negeri 34 Padang in Academic Year 2018/2019', Atrium Pendidikan Biologi, pp. 84–90.
Lufri. (2007) Strategi Pembelajaran Biologi Teori, Praktek dan Penelitian. Edited by T. E. U. Press. Padang: UNP Press.
Lufri & Ardi. (2017). Metodologi penelitian. Padang: UNP Press.
Santosa, S., Badawi, J. A. (2022) 'Analisis Butir Soal Pilihan Ganda Tema Pertumbuhan dan Perkembangan Makhluk Hidup Kelas III Madrasah Ibtidaiyah', Jurnal Basicedu, 6(2), pp. 1678–1686.
Siregar, S. (2015) Statistik Parametrik untuk Penelitian Kuantitatif. Edited by F. Hutari. Jakarta: Bumi Aksara.
Sugiyono. (2016) Metode Penelitian Pendidikan Pendekatan Kuantitatif, Kualitatif dan R&D. Bandung: Alfabeta.
Fietri, W. A., Zulyusri, & Violita. (2021) 'Analisis Butir Soal Biologi Kelas XI Madrasah Aliyah Sakinah Kerinci Menggunakan Program Komputer Anates 4.0 fsor Windows', Jurnal Pendidikan Biologi Undiksha, 7(1), pp. 28–34.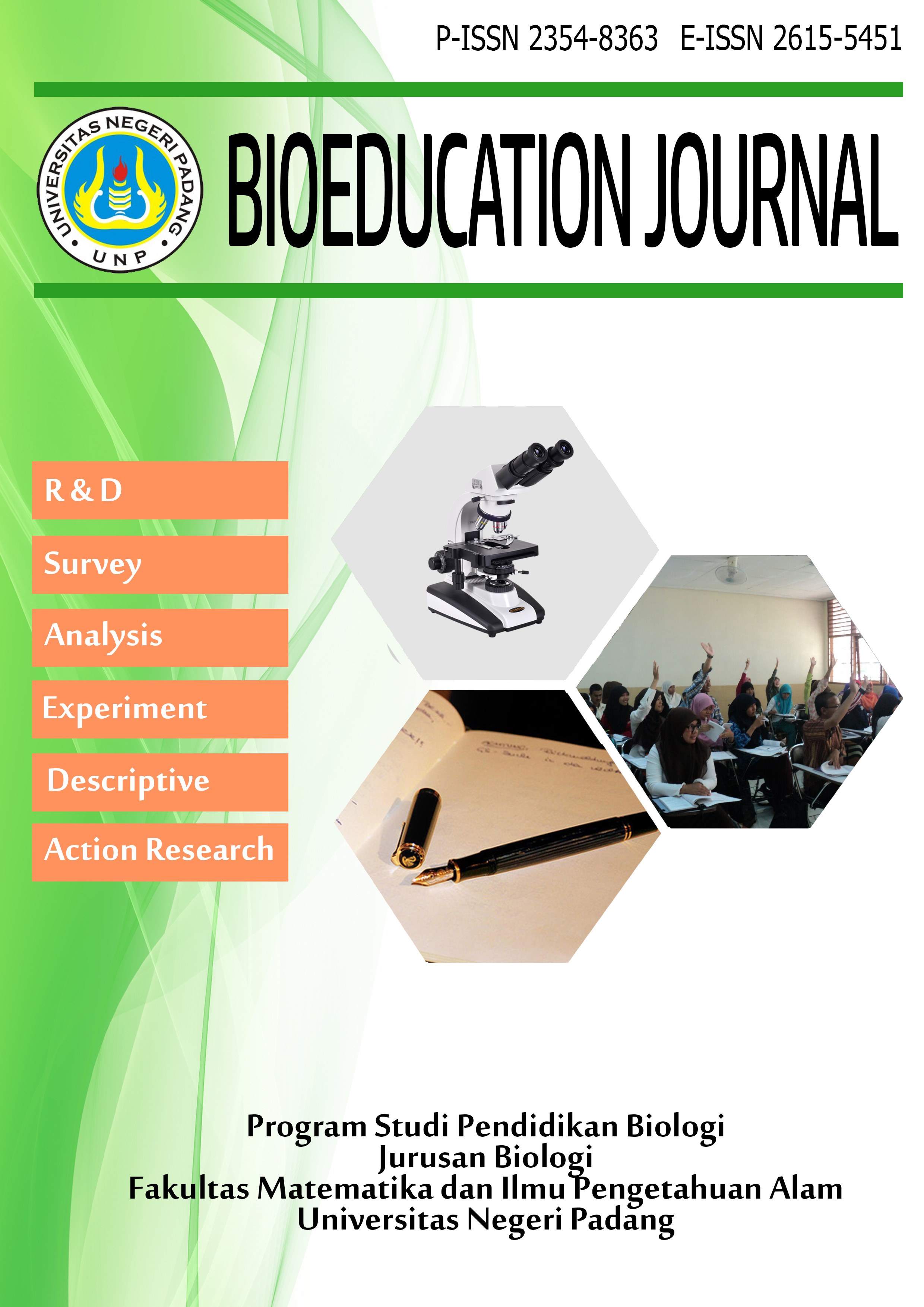 This work is licensed under a Creative Commons Attribution-NonCommercial-ShareAlike 4.0 International License.

Abstract viewed = 92 times pdf downloaded = 73 times