The Development Of Modules Based On Problem Solving with Mind Map About Blood Circulation System Material for Students Class VIII Junior High School
Salmi Halen

Universitas Negeri Padang

Lufri Lufri

Universitas Negeri Padang

Dwi Hilda Putri

Universitas Negeri Padang
Keywords:
Learning module, Problem solving, Development research
Abstract
The implementation of the 2013 Curriculum is to create a creative and innovative person. One of the right approaches is Problem Solving. Circulatory system material is the material that suits the problem solving approach. Less varied teaching materials will make the learning process becomes monotonous so that learners are not interested to learn. Therefore, a research aimed to produce problem-based solving module with mind map of circulatory system material for students of class VIII SMP.This research is a development research using development procedure from Plomp with three stages: initial investigation stage, development stage or prototype, and assessment phase. The object of this research is problem solving module minded mind map, and the subject of research is teachers and learners SMPN 15 Padang.Validity results obtained an average of 86.46% with valid criteria. The results of small group practice test (small group) obtained an average of 100% very practical category. Modular practicality test obtained an average result of 83.33% with practical category, while learners of 79.32% with practical category. It can be concluded that problem solving module with mind map about circulation system material for students of class VIII SMP has been valid and practical.
References
Agustyaningrum dan Gusmania. 2017. Praktikalitas dan Keefektifan Modul Geometri Analitik Ruang Berbasis Konstruktivisme. Jurnal: DIMENSI Vol. 6 No. 3

Fatikhah dan Izzati. 2015. Pengembangan Modul Pembelajaran Matematika Bermuatan Emotional Quostient pada Pokok Bahasan Himpunan. Jurnal: EduMa Vol. 4 No. 2

Fatmawati. 2016. Pengembangan Perangkat Pembelajaran Konsep Pencemaran Lingkungan Menggunakan Model Pembelajaran Berdasarkan Masalah untuk SMA Kelas X. Jurnal: EduSains Vol. 4 No. 2

Hamdunah. 2015. Praktikalitas Pengembangan Modul Konstruktivisme dan Website pada Materi Lingkaran dan Bola. Jurnal: LEMMA Vol. II No. 1

Harisman. 2014. Validitas dan Praktikalitas Modul untu Materi Fungsi Pembangkit pada Perkuliahan Matematika Diskrit di STKIP PGRI Sumatera Barat. Jurnal: AdMathEdu Vol. 4 No. 2

Kurniawati dan Amarlita. 2013. Pengembangan Bahan Ajar Berbasis Masalah pada Mata Pelajaran Kimia SMA Kelas X dalam Materi Hidrokarbon. Seminar Nasional FMIPA UNDIKSHA III Hal: 78-82.

Kusuman. 2016. Pengembangan Bahan Ajar Mata Pelajaran Dasar dan Pengukuran Listrik untuk Sekolah Menengah Kejuruan. Jurnal: Pendidikan Teknologi dan Kejuruan Vol. 23 No. 1.

Lufri. 2007. Strategi Pembelajaran Biologi: Konsep, Pemodelan dan Pelatihan. Padang: Universitas Negeri Padang.

Maulidya dan Saputri. 2016. Mengapa Siswa Kesulitan dalam Belajar Matematika. Seminar Nasional Matematika dan Pendidikan Matematikan

Sufairoh. 2016. Pendekatan Saintifik dan Model Pembelajaran K-13. Jurnal: Pendidikan Profesional Vol. 5 No. 3.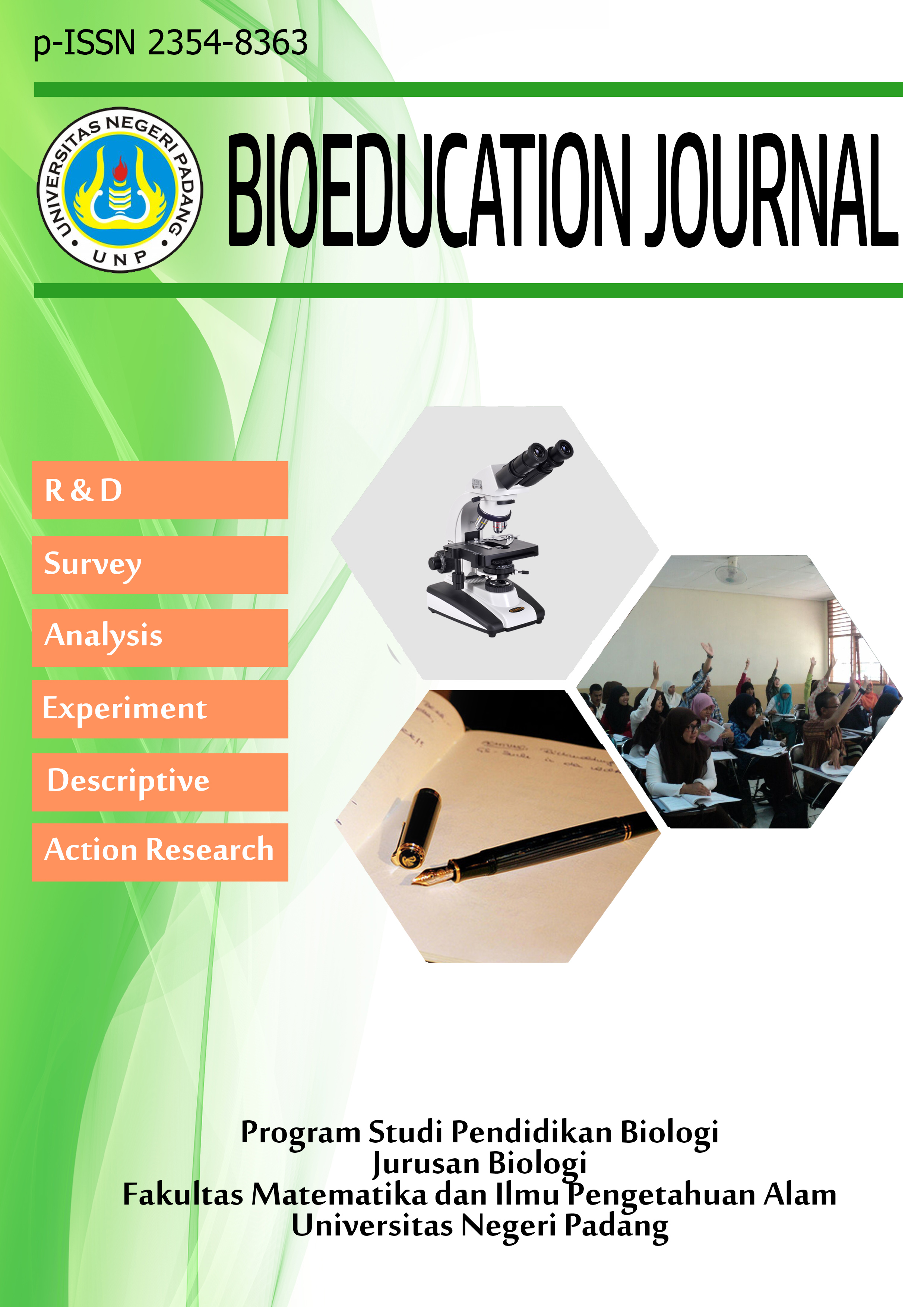 This work is licensed under a Creative Commons Attribution-NonCommercial-ShareAlike 4.0 International License.

Abstract viewed = 277 times pdf (Bahasa Indonesia) downloaded = 233 times