Implementation Constructivism Approach through Learning Cycle 5E Model to Student Learning Competence Class XI MIA SMA Negeri 12 Padang
Refsya Aulia Fikri

UNP

Syamsurizal Syamsurizal

Universitas Negeri Padang

Rahmadhani Fitri

Universitas Negeri Padang
Keywords:
Constructivism Approach, Learning Cycle 5E, Learning Competency
Abstract
Kurikulum 2013 emphasizes science and technology, student centered learning patterns and principles of self-construction to learners. SMA Negeri 12 Padang as the school organizer of Kurikulum 2013 when observation is found non-conformity such as learning conducted is teacher centered, construction of knowledge is less conceptualized in the students. This research is an experimental research with Non-Equivalent Posttest Group Only Design. The study population is the students of class XI MIA SMA Negeri 12 Padang 2017/2018 academic year which spread into four classes. Sampling research using purposive sampling. The results were selected class XI MIA 3 as experimental class and class XI MIA 1 as a control class. The result of t test is known that the knowledge competence of tcount > ttable (2,67 > 1,67), attitude competence tcount > ttable (learning activity: 4,67 > 1,67 and practicum activity: 2,15 > 1,67) , then competence of skill  tcount > ttable (2,07 > 1,67). It is known that the hypothesis is accepted. So it can be concluded that the implementation of constructivism approach through Learning Cycle 5E learning model can improve students' learning competence of class XI MIA SMA Negeri 12 Padang.
References
Afandi, R. 2014. "Implementasi Kurikulum 2013 dalam Mempersiapkan Sumber Daya Manusia Indonesia Menghadapi Masyarakat Ekonomi ASEAN (ASEAN Economic Community) pada 2015". Prosiding Seminar Nasional Pendidikan: Impelmentasi Kurikulum 2013 dan Problematikanya. (1 November 2014, Sidoarjo), Pascasarjana Unesa, ISSN: 2407-1293, Halaman 109-117.

Agustyaningrum, N. 2011. "Implementasi Model Pembelajaran Learning Cycle 5E untuk Meningkatkan Kemampuan Komunikasi Matematis Siswa Kelas IX B SMP Negeri 2 Sleman". Makalah Seminar Nasional Matematika Jurusan Matematika UNY. http://eprints.uny.ac.id/7389/1/p-34.pdf, diunduh pada 28 Oktober 2017.

Bybee. R. et al. 2006. The BSCS 5E Instructional Model: Origins, Effectiveness and Application: Executive Summary. Colorado: BSCS.

Dewi, N. L, Dantes, N dan Sadia, I. W . 2013. "Pengaruh Model Pembelajaran Inkuiri Terbimbing terhadap Sikap Ilmiah dan hasil Belajar IPA". Jurnal Program Pascasarjana Universitas Pendidikan Ganesha. Vol. 3, No.1.

Direktorat PSMA. 2017. Modul Pengembangan Keprofesian Berkelanjutan Biologi SMA 2017 (Kelompok Kompetensi F). Jakarta: Kemdikbud.

Gribbons, B and Joan, H. 1997. "True and Quasi-Experimental Designs". (5)14. https://pareonline.net/getvn.asp?v=5&n=14, diakses pada 2 Juni 2018.

Hamalik, O. 2009. Proses Belajar Mengajar. Bandung: Bumi Aksara.

Kunandar. 2014. Penilaian Autentik (Penilaian Hasil Belajar Peserta Didik berdasarkan Kurikulum 2013) Edisi Revisi. Jakarta: Raja Grafindo Persada.

Mazidah, A. L, Suliyanah, dan Martini. 2012. "Penerapan Model Learning Cycle 5E dengan Strategi Question Student Have untuk Meningkatkan Hasil Belajar Siswa". Jurnal Pendidikan Unesa. Vol. 1. No. 1: 1-7.

Pratiwi, N. W dan Supardi, I. "Penerapan Model Pembelajaran Learning Cycle 5E pada Materi Fluida Statis Siswa Kelas X SMA". Jurnal Inovasi Pendidikan Fisika. Vol. 03. No. 02: 143-148.

Purwanto, N. 2009. Prinsip-prinsip dan Teknik Evaluasi Pengajaran. Bandung: Remaja Rosdakarya.

Rahayuningsih, R, Masykuri, dan Utami, B. 2012. "Penerapan Siklus Belajar 5E (Learning Cycle 5E) disertai Peta Konsep untuk Meningkatkan Kualitas Proses dan Hasil Belajar Kimia pada Materi Kelarutan dan Hasil Kali Kelarutan Kelas XI IPA SMA Negeri 1 Kartasura TP 2011/2012". Jurnal Pendidikan Kimia Universitas Sebelas Maret. Vol. 1, No.1: 51-58.

Sayuti, I, Rosmaini, dan Andayanhi, S. 2013. Penerapan Model Pembelajaran Learning Cycle 5E untuk Meningkatkan Sikap Ilmiah dan Hasil Belajar Biologi Siswa Kelas XI IPA 4 SMA Negeri 5 Pekanbaru". Jurnal Pendidikan Biologi Universitas Riau. Hal: 1-11.

Syah, M, 2013. Psikologi Pendidikan. Bandung: Remaja Rosdakarya.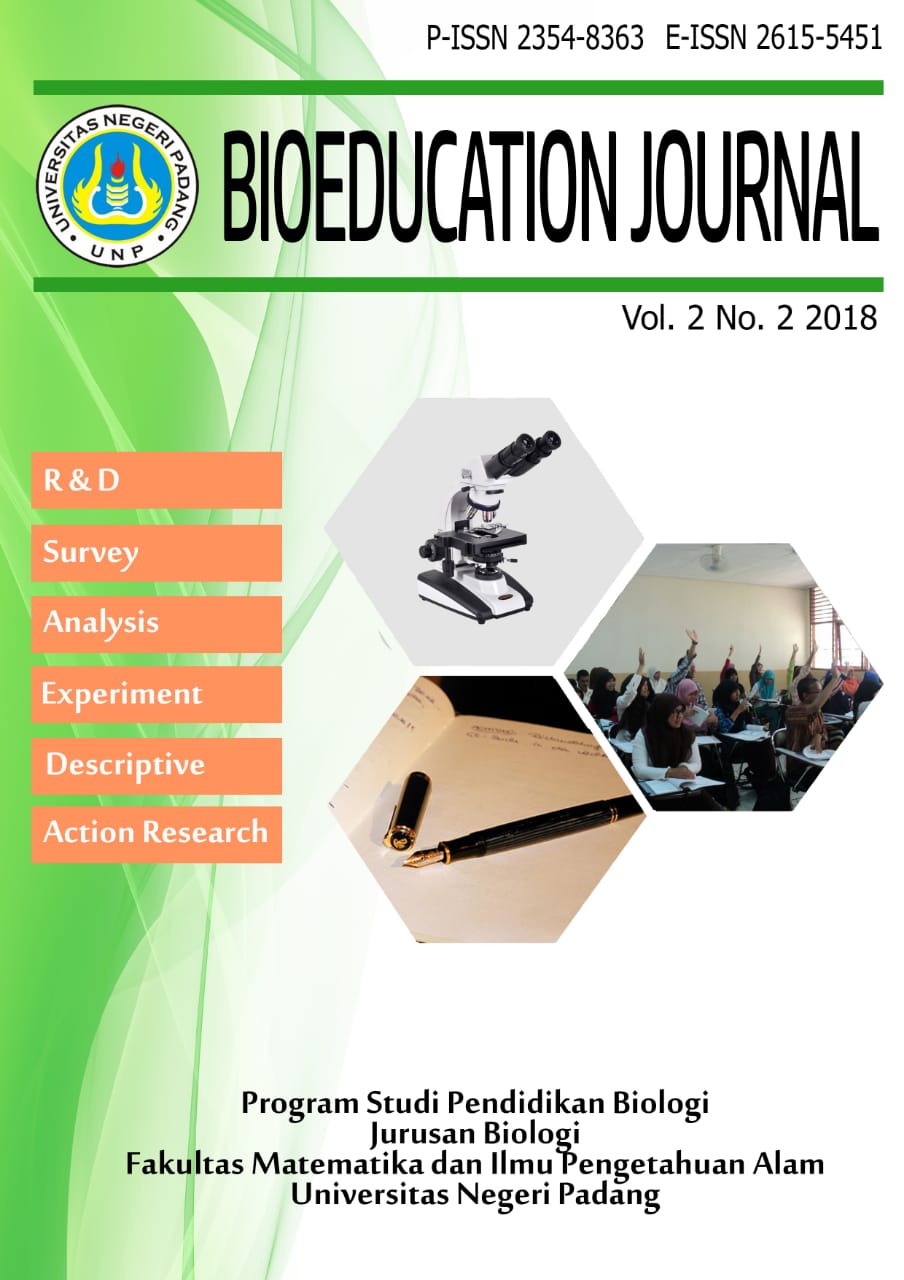 This work is licensed under a Creative Commons Attribution-NonCommercial-ShareAlike 4.0 International License.

Abstract viewed = 166 times pdf (Bahasa Indonesia) downloaded = 176 times