Development of Interactive Multimedia Using Macromedia Flash Equipped Drill Method about Human Digestive System Material for Students Grade XI
AL FENDRI

UNIVERSITAS NEGERI PADANG

Lufri Lufri

Universitas Negeri Padang

Relsas Yogica

Universitas Negeri Padang
Keywords:
Interactive Multimedia, Macromedia Flash, Drill
Abstract
The purpose of this research is to develop interactive multimedia using macromedia flash equipped with drill method about human digestive system material for high students senior high school class XI of valid and practical. This research uses Plomp development model that is initial investigation stage, development stage or prototype making and assessment phase. Research data were analyzed by qualitative and quantitative analysis. The data collection instrument uses self evaluation questionnaire, validity questionnaire, one to one evaluation questionnaire, small group evaluation questionnaire, field test questionnaire and questionnaire of practice. The developed product is validated by 2 lecturers of biology and 1 biology teacher of SMAN 1 Bukit Sundi Kabupaten Solok, while for practicality done by 21 students of SMAN 1 Bukit Sundi. Based on the research results obtained validity value 94.33 with criteria very valid, practicality by teacher 93,76 with criteria very practical and practicality of student 93,02 with criterion very practical.
References
Deporter, B dan Hernacki. 2000. Quantum Learning: Membiasakan Belajar Nyaman dan Menyenangkan; Penerjemah Alwiyah Abdurrahman. Bandung: Kaifa.

Devi, P.K. 2010. Metode-Metode dalam Pembelajaran IPA untuk Guru SD. Jakarta: PPPTK IPA.

Nasution. 2012. Metode Research (Penelitian Ilmiah). Jakarta: Bumi Aksara.

Plomp, T. And Nieveen, N. 2013. Educational Design Research. Ensched: University of Twente.

Purwanto, N. 2006. Prinsip-prinsip dan Teknik Evaluasi Pengajaran. Bandung: Remaja Rosdakarya.

Rusman, Deni, K. dan Cepi, R. 2011. Pembelajaran Berbasis Teknologi Informasi dan Komunikasi. Jakarta: Raja Grafindo Persada.

Rustaman, N. 2005. Strategi Belajar Mengajar Biologi. Malang: Universitas Negeri Malang.

Sadiman, A.S. dkk. 2009. Media Pendidikan: Pengertian, Pengembangan dan Pemanfaatan. Jakarta: Raja Grafindo Persada.

Slameto. 2010. Belajar dan Faktor-Faktor yang Mempengaruhi. Jakarta: Rineka Cipta.

Sudjana, N . 2011. Dasar-Dasar Proses Belajar Mengajar. Bandung: Sinar Baru Algensindo.

Sugiyono. 2012. Metode Penelitian Kuantitatif, Kualitatif, dan R & D. Bandung: Alfabeta.

Sukardi. 2011. Evaluasi Pembelajaran. Jakarta: Bumi Aksara.

Suratsih. 2010. Pengembangan Modul Pembelajaran Biologi Berbasis Potensi Lokal Dalam Kerangka Implementasi KTSP SMA Di Yogyakarta. Laporan Hasil Penelitian. Yogyakarta. Jurusan Pendidikan Biologi FMIPA UNY, Volume 1(2).
Susilowati, E. 2013. Penggunaan Metode Pembelajaran Drill Sebagai Upaya Meningkatkan Prestasi Belajar Akutansi. Jurnal Pendidikan Ekonomi, Volume 1(3): 1-10.

Trianto. 2011. Pengantar Penelitian bagi Pengembangan Profesi Pendidikan dan Tenaga Kependidikan. Jakarta: Kencana Prenada Media Group.

Usman, M. B . 2002. Metodologi Pembelajaran Agama Islam. Jakarta: Ciputat Pers.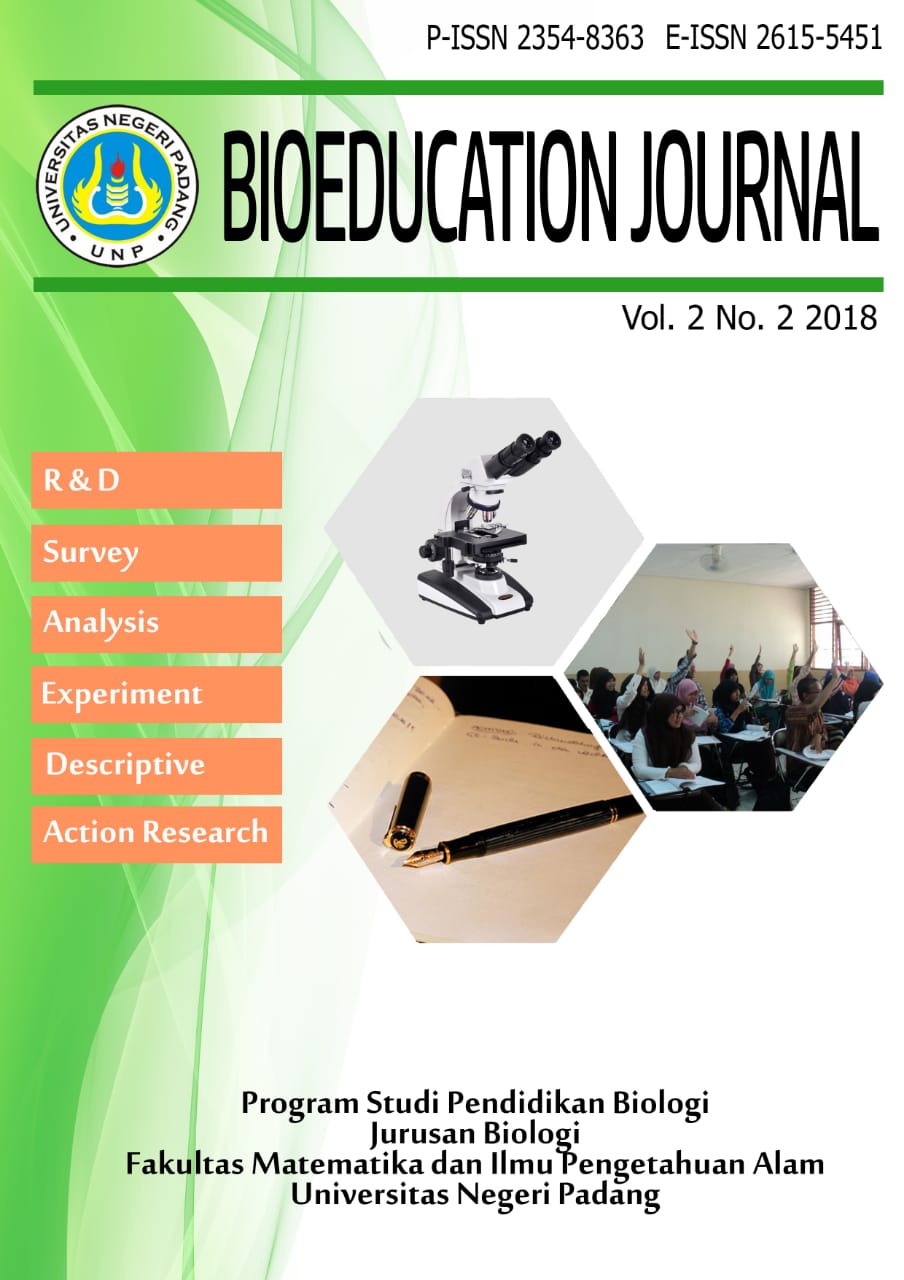 This work is licensed under a Creative Commons Attribution-NonCommercial-ShareAlike 4.0 International License.

Abstract viewed = 258 times pdf (Bahasa Indonesia) downloaded = 227 times