Development of a Module with Comprehensive Intelligence about Fungi Material for Class X SMA/MA
Nurul Amrina Rosada

Universitas Negeri Padang

Ardi Ardi

Universitas Negeri Padang

Helendra Helendra

Universitas Negeri Padang

Relsas Yogica

Universitas Negeri Padang
Keywords:
Module, Comprehensive Intelligence, Function
Abstract
Quality of education can be realized with the procurement of instructional materials in the form of module in accordance with demands of the curiculum 2013. Module in accordance with the curiculum 2013 containing values of spiritual intelligence, social and emational intelligence, intelctual intelligence and skilfulness intelligence. These four intelligence are known as comprehensive intelligence, but the module wich is contains a comprehensive intelligence valid and practical. This research is design development study that uses a PLOMP method, wich is consisting of three phases: preliminary research, development or prototyping phase, and assesment phase. The research was conducted in SMAN 4 padang with the subject of the research of the students of grade X MIA 1 and grade X MIA 5 SMAN 4 Padang and the object in this research is a module prodct containing comprehensive intelligence about the function material for class X SMA/MA. The data is primary data namely the data obtain directly through questionnaire validity and practicality on the subject of research. From the result of this research, found that the module has a comprehensive intelligence on valid and practical materials, the resulting module is very practical by teachers and learners in terms of language criticism, learning efficiencies and benefits.
References
Amri, N. 2013. Pengembangan Modul Bernuansa Pendidikan Karakter dengan Tampilan Majalah pada Materi Pola Hereditas untuk SMA. Skripsi tidak diterbitkan. Padang: UNP.
Amelia, N. F. 2010. Pengaruh Penggunaan Media Modul Terhadap Motivasi Belajar dan Implikasinya Terhadap Prestasi Belajar Siswa Pada Mata Diklat Komputer Akuntansi. Skripsi tidak diterbitkan. Bandung: UPI.
Azira. 2015. Pembuatan Handout Bermuatan Kecerdasan Komprehensif untuk Materi Kalaor dan Alat Optik pada Kelas X SMA. Pillar of Physics Education. 6 (1): 2-8.
Chatib, M. 2011. Gurunya Manusia Menjadikan Semuan Anak Istimewa dan Semua Anak Juara. Bandung: Kaifa Learning.
Depdiknas. 2008. Panduan Pengembangan Bahan Ajar. Jakarta: Direktorat Pembinaan Sekolah Menengah Atas.
Depdiknas. 2010. Juknis Pengembangan Bahan Ajar SMA. Jakarta: Direktorat Pembinaan Sekolah Menengah Atasi Laju Reaksi pada Kelas XI SMA.
Fatma, B. H dan Susilawati. 2016. Pengembangan Handout Bermuatan Kecerdasan Komprehensif untuk Materi Laju Reaksi pada Kelas XI SMA. JOM Fkip Unri. 3(1): 9-11.
Golmen, D. 2013. Emational Intelligence. Library of Univiolent Revolution.
Kemendikbud. 2015. Konsep dan Implementasi Kurikulum 2013. Jakarta: BSNP.
Liniswanti, S. A dan Kamus, Z. 2015. Pembuatan Bahan Ajar Bermuatan Kecerdasan Komprehensif Materi Kalor dan Alat Optik untuk Pembelajaran Siswa Kelas X SMA. Pillar of Physics Education. 6(1): 17-24.

Mulyasa. 2006. Kurikulum yang Disempurnakan. Bandung: PT Remaja Rosdakarya.
Nasution. 2009. Berbagai Pendekatan dalam Proses Belajar dan Mengajar. Jakarta: Bumi Aksara.
Nugraha, A. D, Achmad, B dan Supartono. 2013. Pengembangan Bahan Ajar Reaksi Redoks Bervisi SETS. Berorientasi Konstruktivistik. Journal of Innovative Science Education. 2 (1): 27-34.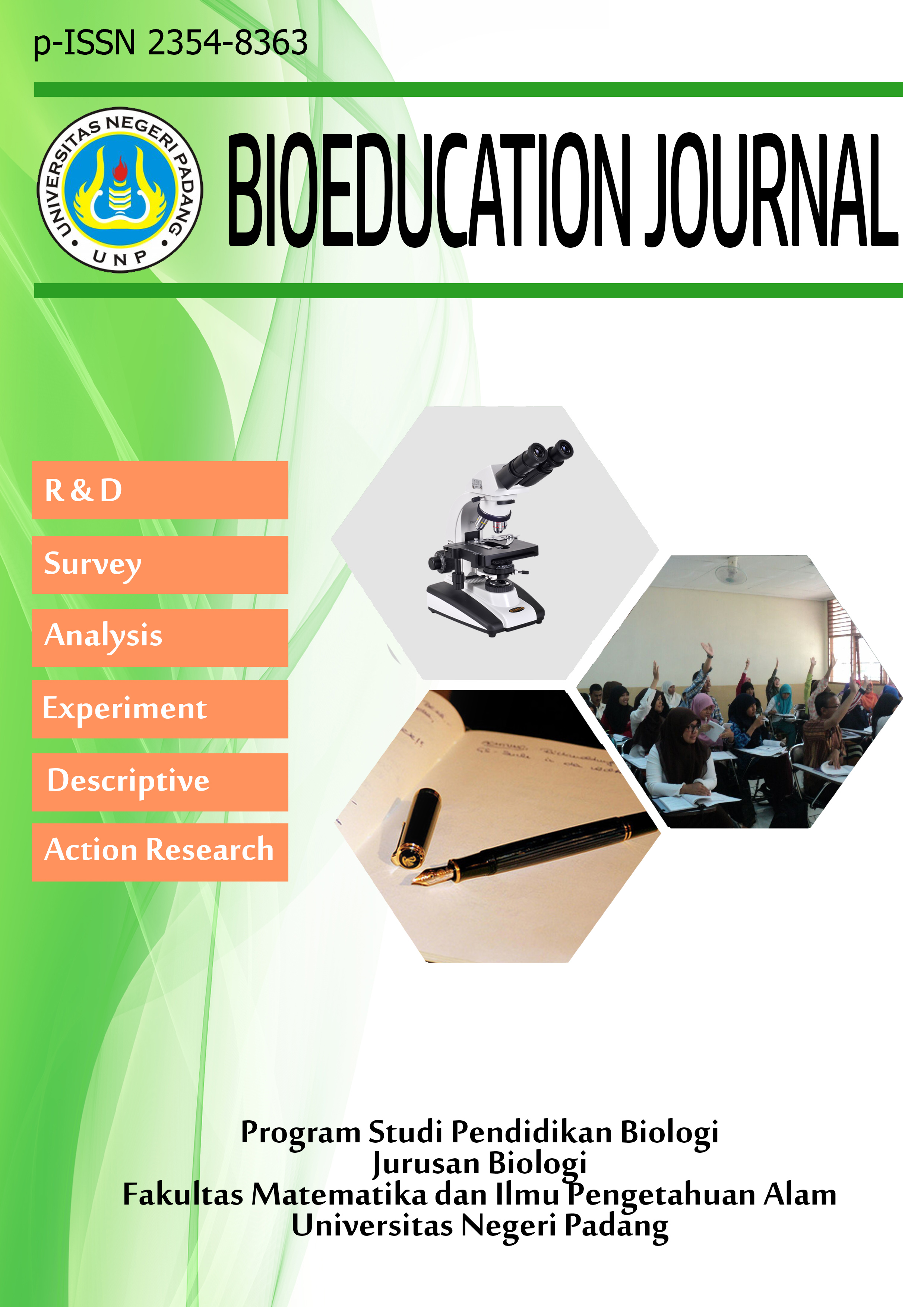 This work is licensed under a Creative Commons Attribution-NonCommercial-ShareAlike 4.0 International License.

Abstract viewed = 186 times pdf (Bahasa Indonesia) downloaded = 248 times