Validity of the Human Respiratory System Booklets as Learning Suplement for Student Class VIII Junior High School
Ismi Azzahra Harahap

Universitas Negeri Padang

Helendra Helendra

Universitas Negeri Padang

Siska Alicia Farma

Universitas Negeri Padang

Syamsurizal Syamsurizal

Universitas Negeri Padang
Keywords:
Booklet, Supplement, Instructional media, Respiratory system, Validity
Abstract
The education system in curriculum 2013 is emphasizing the active participation of students in learning by making students as subjects of learning. The application of the role of students as learning subjects can be maximized by the use of instructional media. Learning media commonly used in schools are students' books and student worksheets. The analysis that has been carried out reveals that the student book and the Student Worksheet have a weakness that is the appearance that does not attract students' interest and is not accompanied by relevant illustrations. This weakness was later made a reference to develop a respiratory system booklet in humans as a supplement to natural science learning for students of grade VIII junior high school. This research is a research development using the Plomp method. The research phase consisted of the preliminary research, development and prototypingt phase, and assessment phase. Data analysis uses quantitative and qualitative analysis. The booklet is validated by two validators. The booklet assessment stage is done by evaluating one using three students with different academic abilities. The results are obtaining booklets with a validation value of 89.56%. This study uses a self-evaluation questionnaire, expert reviews, and one-on-one evaluation. The conclusion obtained is that the booklet has very valid criteria and is very suitable for use as a learning supplement.
References
Afdal, Z., & Febliza, A. (2015). Media Pembelajaran dan Teknologi Informasi dan Komunikasi. Pekanbaru: Adefa Grafika.

Alfianika, N. (2018). Buku Ajar Metode Penelitian Pengajaran Bahasa Indonesia. Yogyakarta: Deepublisher.

Anggraini, T., Syamsurizal, Handayani, D., & Farma, S. A. (2019). Pengaruh Model Pembelajaran Discovery Learning Terhadap Kompetensi Belajar IPA Siswa Kelas VII. Bioeducation Journal, 3(1):83-84.

Baharun, H. (2015). Penerapan Pembelajaran Active Learning untuk Meningkatkan Hasil Belajar Siswa di Madrasah. Jurnal Pendidikan Pendagogik, 1(1):34.

Bunyamin, J., & Permana, S. (2015). Pengembangan Media Pembelajaran Interaktif Ilmu Pengetahuan Alam (IPA) Berbasis Multimedia. Jurnal Algoritma, 11(1):1.

Damayanti, E., Sudarto., & Yunus, S. R. (2016). Pengembangan Media Visual Flash Card pada Materi Interaksi Makhluk Hidup dengan Lingkungannya. Jurnal Sainsmat, 5(2):179.

Dharmayanti, P., Zulyusri, Farma, S. A., & Ristiono. (2019). Pengembangan Lembar Kerja Peserta Didik Bernuansa Pendekatan Kontekstual tentang Materi Protista untuk Peserta Didik Kelas X SMA/MA. Atrium Pendidikan Biologi, 4(1):196.

Erman. (2008). Model Belajar dan Pembelajaran Berorientasi Kompetensi Siswa. Jurnal Educare, 5(2):1.

Fikri, R. A., Syamsurizal, & Fitri. R. (2018). Implementasi Pendekatan Kontruktivisme Melalui Model Pembelajaran Learning Cycle 5E terhadap Kompetensi Belajar Peserta Didik Kelas XI MIA SMA Negeri 12 Padang. Bioeducation Journal, 2(2):209

Hutama, F. S. (2016). Pengembangan Bahan Ajar IPS Berbasis Nilai Budaya Using untuk Siswa Sekolah Dasar. Jurnal Pendidikan Indonesia, 5(2):120.

Mahendrani, K. (2015). Pengembangan Booklet Etnosains Fotografi Tema Ekosistem untuk Meningkatkan Hasil Belajar Pada Siswa SMP. Unnes Science Education Journal, 4(2):866.

Plomp, T., dan Nieveen. (2013). Educational Design Research Part A: An Introduction. Encedhe, The Netherlands: SLO.

Riyana, C., dan Susilana, R. (2009). Media Pembelajaran: Hakikat, Pengembangam, Pemanfaatan dan Penilaian. Bandung: Wacana Prima.

Russel, J. D., Lowther, D. L., & Smaldino, S. E. (2011). Teknologi Pembelajaran dan Media untuk Belajar. Jakarta: Kencana.

Rustan, S. (2008). Layout Dasar dan Penerapanya. Jakarta: Gramedia Pustaka Utama.

Widiawati, Fuadiyah, S., Syamsurizal, & Ardi. (2019). Analisis Kemampuan Berpikir Kreatif Peserta Didik Kelas VII dalam Pembelajaran Biologi di SMP Negeri 25 Padang. Atrium Pendidikan Biologi, 4(4): 75.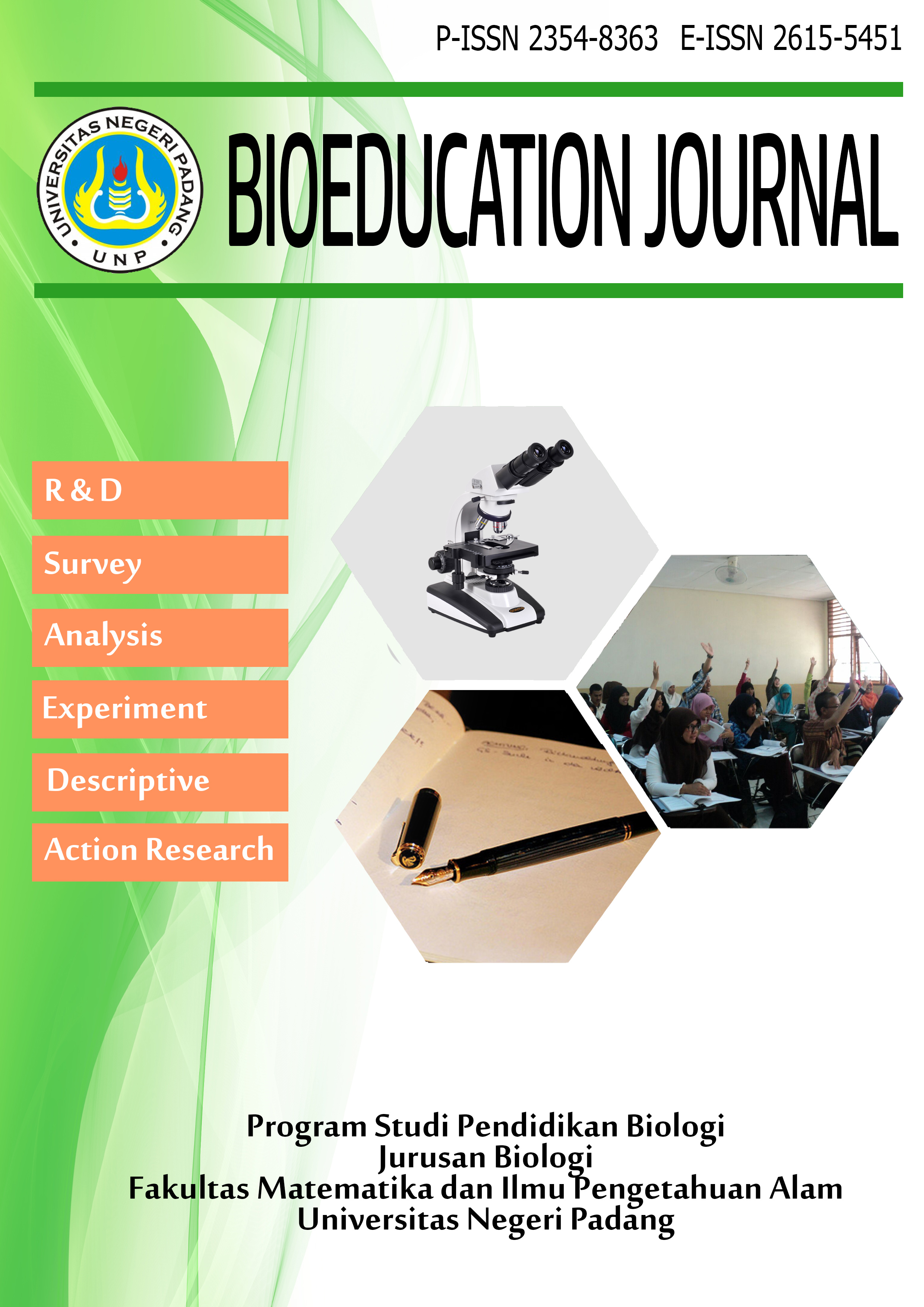 This work is licensed under a Creative Commons Attribution-NonCommercial-ShareAlike 4.0 International License.

Abstract viewed = 249 times pdf downloaded = 227 times