Development of Handout with Magazine Display which Features by Concept Map about Interaction of Living Things and The Environment for Student of Class VII SMP
Sartika Fazlina

Universitas Negeri Padang

Ramadhan Sumarmin

Universitas Negeri Padang

Irma Leilani Eka Putri

Universitas Negeri Padang

Relsas Yogica

Universitas Negeri Padang
Keywords:
Handout, magazine view, concept map
Abstract
Handout can be presented with a magazine display with concept maps. Pursuant to this matter done research with purpose to produce form handout with magazine display which have concept map about interaction of living creature and its environment of student class VII SMPN 12 Padang valid andpractical. This research is a research development conduted at FMIPA UNP and SMPN 12 Padang using model of development of Plomp 2013, that is initial investigation stage, development stage or prototype making and assessment phase. Handout validated by 3 lecturers department of Biology FMIPA UNP, 1 teacher Biology SMPN 12 Padang. Data in this research, data obtained from questionnaire of validity test and practice test. Data includes are primary data. The research produced a handout with magazine display with concept map about the interaction of living creatures and the environment for student of class VII SMP which is categorized with value 4,45 and stated very practical with 4,28 value by teacher and very practicalwith value 4,49 by learners.
References
Amri, N. 2013. "Pengembangan Modul Bernuansa Pendidikan Karakter dengan Tampilan Majalah pada Materi Pola Hereditas untuk SMA". Skripsi tidak Diterbitkan. Padang: Fakultas Matematika dan Ilmu Pengetahuan Alam. Universitas Negeri Padang.

Arsyad, A. 2011. Media Pembelajaran. Cetakan ke-15. Jakarta : Rajawali Pers.

Belawati, T. 2003. Materi Pokok Pengembangan Bahan Ajar Edisi ke satu. Jakarta : Universitas Terbuka.

Buzan, T. 2010. Buku Pintar Mind Map. Jakarta: Duta Prima.

Depdiknas. 2008. Panduan Pengembangan Bahan Ajar. Jakarta: Direktorat Pembinaan Sekolah Menengah Atas.

Djamarah, S. B dan Zein, A. 2006. Strategi Belajar Mengajar, rev. ed. Jakarta: Rineka Cipta.

Fauziah, N. 2013. Studi komparasi metode pembelajaran Student Teams Achievement Division (STAD) menggunakan Peta Pikiran (Mind Mapping) dan Peta Konsep (Concept Mapping) terhadap Prestasi Belajar Siswa pada Materi Pokok System Periodic Unsure Siswa Kelas X Semester Ganjil SMA Negeri Kebakmarat Tahun Pelajaran 2012/2013, Jurnal Pendidikan Kimia (Nomor 2, Volume 2). Hlm 132-139.

Lufri. 2007. Strategi Pembelajaran Biologi. Padang: Universitas Negeri Padang Press.

Lufri. 2010. Kiat Memahami Metodologi dan Melakukan Penelitian. Padang: UNP Press.

Plomp, T. And Nieveen, N. 2013. Educational Design Research. Enschede. University of Twente.

Prastowo, A. 2011. Panduan Kreatif Membuat Bahan Ajar Inovatif. Yogyakarta: Diva Press.

Purwanto, M. Ngalim. 2009. Prinsip-Prinsip dan Teknik Evaluasi Pengajaran. Bandung: PT. Remaja Rosdakarya.

Sadiman, A. Rahardjo. 2006. Media Pendidikan. Jakarta: PT. Raja Grafindo Persada.

Sari, M. 2012. "Pengembangan Modul Berbasis Mind Map dengan Tampilan Majalah pada Materi Fungi untuk SMA". Skripsi. Tidak diterbitkan. Padang: Fakultas Matematika dan Ilmu Pengetahuan Alam. Universitas Negeri Padang.

Sudjana, N dan Ahmad R. 2010. Media Pengajaran. Bandung: Sinar Baru Algesindo.

Sudjana, N. 2011. Penilaian Hasil Proses Belajar Mengajar. Bandung: Remaja Rosdakarya.

Sugiarti, L. 2013. Pengaruh Bahan Ajar terhadap Kualitas Hasil Belajar Materi Konstruksi Pola pada Prodi PKK Tata Busana. Fhasion and Fhasion Education Journal 2 (1): 48-54.

Supranto. 2000. Statistik: Teori dan Aplikasi Edisi Keenam. Jakarta: Erlangga

Suwarti. Ardi, & E. Amri., 2012. Pengembangan Handout dengan Tampilan Majalah pada Materi Sistem Pernapasan Manusia untuk Siswa SMP. Hasil Penelitian. Pendidikan Biologi STKIP PGRI Sumatera Barat.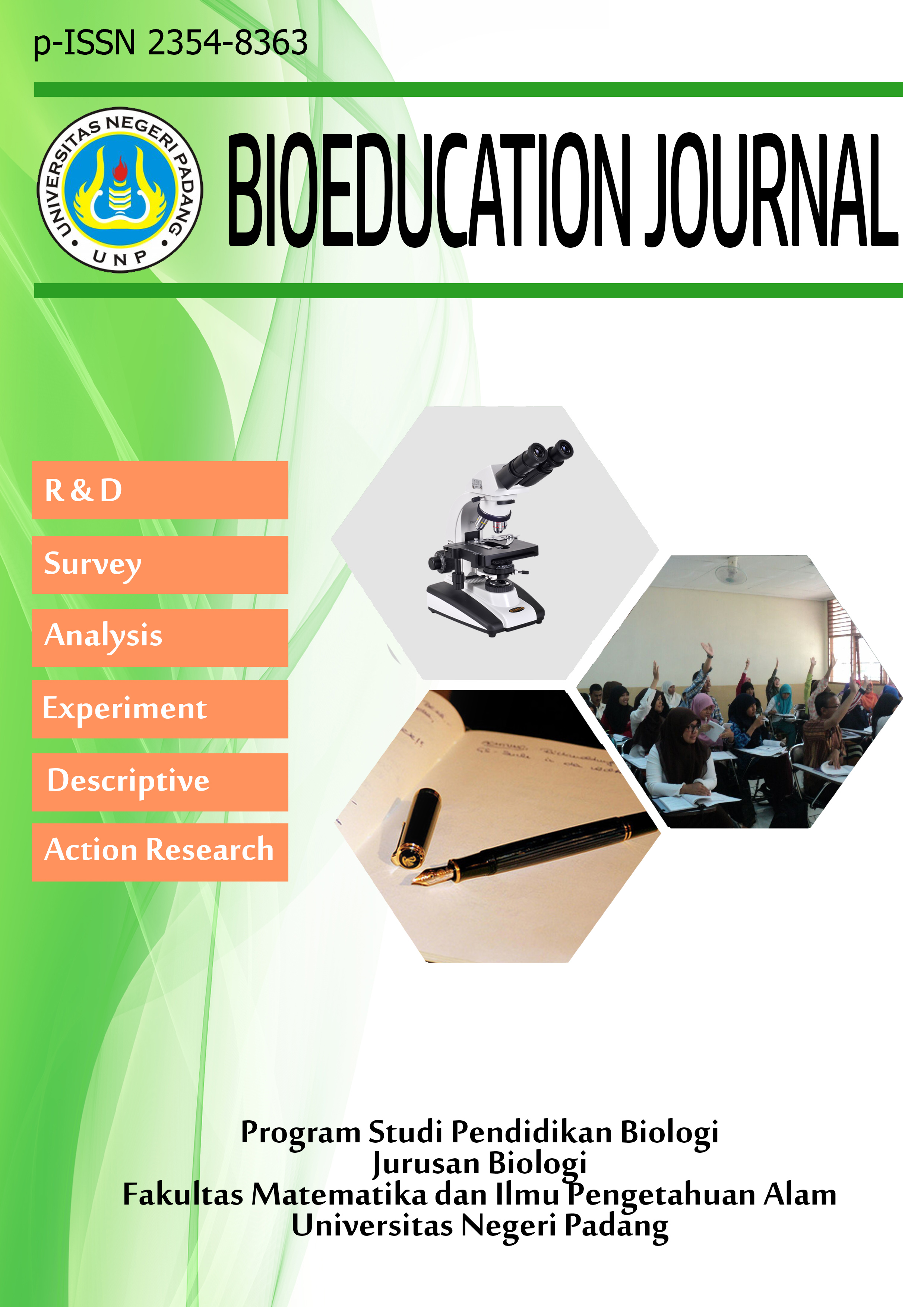 This work is licensed under a Creative Commons Attribution-NonCommercial-ShareAlike 4.0 International License.

Abstract viewed = 533 times pdf (Bahasa Indonesia) downloaded = 230 times