Development of Animal Comic Media (Anicom) Oriented with Contextual Approach for Grade X Students
Ilham Sepriadi

Universitas Negeri Padang

Ramadhan Sumarmin

Universitas Negeri Padang

Rahmadhani Fitri

Universitas Negeri Padang
Keywords:
Animal Comic, contextual approach
Abstract
Based on the observation, it was found that the learning process did not motivate the students. Media that teachers use when the learning process is also less interest and motivation of learners. In addition, the media has not provided a clear picture for learners in relating it in everyday life. This study aims to develop a contextually oriented contextual learning medium for a valid and practical X class. This research is a development study. This learning medium was developed using three stages of 4D models. Data obtained from the validation and practicalization. Media that has been designed, validated by three experts, then tested to a teacher and 30 students of class X in SMA Negeri 12 Padang to know the level to the practitioner. The result of the research shows that the media developed in the biology learning oriented contextual approach on the material of kingdom Animalia for students of class X is stated very valid and very practical.
References
Sulistiyono, H. 2010. "Implementasi Pendekatan Kontekstual dalam Pembelaja-ran Sastra Anak di Sekolah Dasar (Sebuah Tinjauan Teori Pembelajaran Sastra Anak)". Jurnal Kependidikan Interaksi,Tahun 5, Nomor 5: 33-42.

Campbell, N.A., Reece, J.B., Urry, L.A., Cain, M.L., Wasserman, S.A., Minorsky, P.V., dan Jackson, R.B.2008. BIOLOGI Edisi Kedelapan Jilid 2. Jakarta: Erlangga.

Nurdin. 2011. 'Pengaruh Minat Baca, Pemanfaatan Fasilitas dan Sumber Belajar terhadap Prestasi Belajar IPS Terpadu SMP Negeri 13 Bandar Lampung".Jurnal Ekonomi dan Pendidikan,Vol. 8, No. 1: 88-101.

Sadiman, A. S. 2006. Media Pendidikan. Jakarta: Raja Grafindo.

Fitri, R., Sumarmin, R., dan Ahda, Y. 2014. "Pengembangan Lembar Kerja Siswa Biologi Berorientasi Pendekatan Kontekstual pada Materi Pewarisan Sifat untuk Kelas IX".Jurnal Penelitian Pendidikan,Volume 5, No. 1: 55-64.

Oka, A.A. 2011. "Peningkatan Kualitas Pembelajaran IPA di SMP Melalui Pembelajaran Kontekstual". Bioedukasi, Volume 2, Nomor 1:81-91.

Trianto. 2010. Mendesain Model Pembelajaran Inovativ-Progresif: Konsep Landasan, dan Implementasinya Pada Kurikulum Tingkat Satuan Pendidikan (KTSP). Jakarta: Kencana.

Depdiknas. 2008. Kurikulum Tingkat Satuan Pendidikan. Jakarta: Dikmenum Depdiknas.

Djamarah, Syaiful, B., dan Aswan, Z. 2010. Strategi Belajar Mengajar. Jakarta: Rineka Cipta.

Wahyuningsih, A. N. 2012. "Pengembangan Media Komik Bergambar Materi Sistem Saraf untuk Pembelajaran yang Menggunakan Strategi PQ4R".Journal of Innovative Science Education,Volume1, Nomor 1: 19-27.

Maxtuti, I., Wisanti, R. Ambarwati. 2013. "Pengembangan Komik Keanekaraga-man Hayati sebagai Media Pembelajaran bagi Siswa SMA Kelas X". Bioedukasi, Volume 2, Nomor 2: 128-133.

Andriani, T., M. Masykuri dan S. Sudarisman. 2013. "Pembelajaran Biologi Menggunakan Pendekatan CTL (Contextual Teaching and Learning) melalui Media Flipchart dan Video Ditinjau dari Kemampuan Verbal dan Gaya Belajar". Bioedukasi, Volume 6, Nomor 2: 102-119.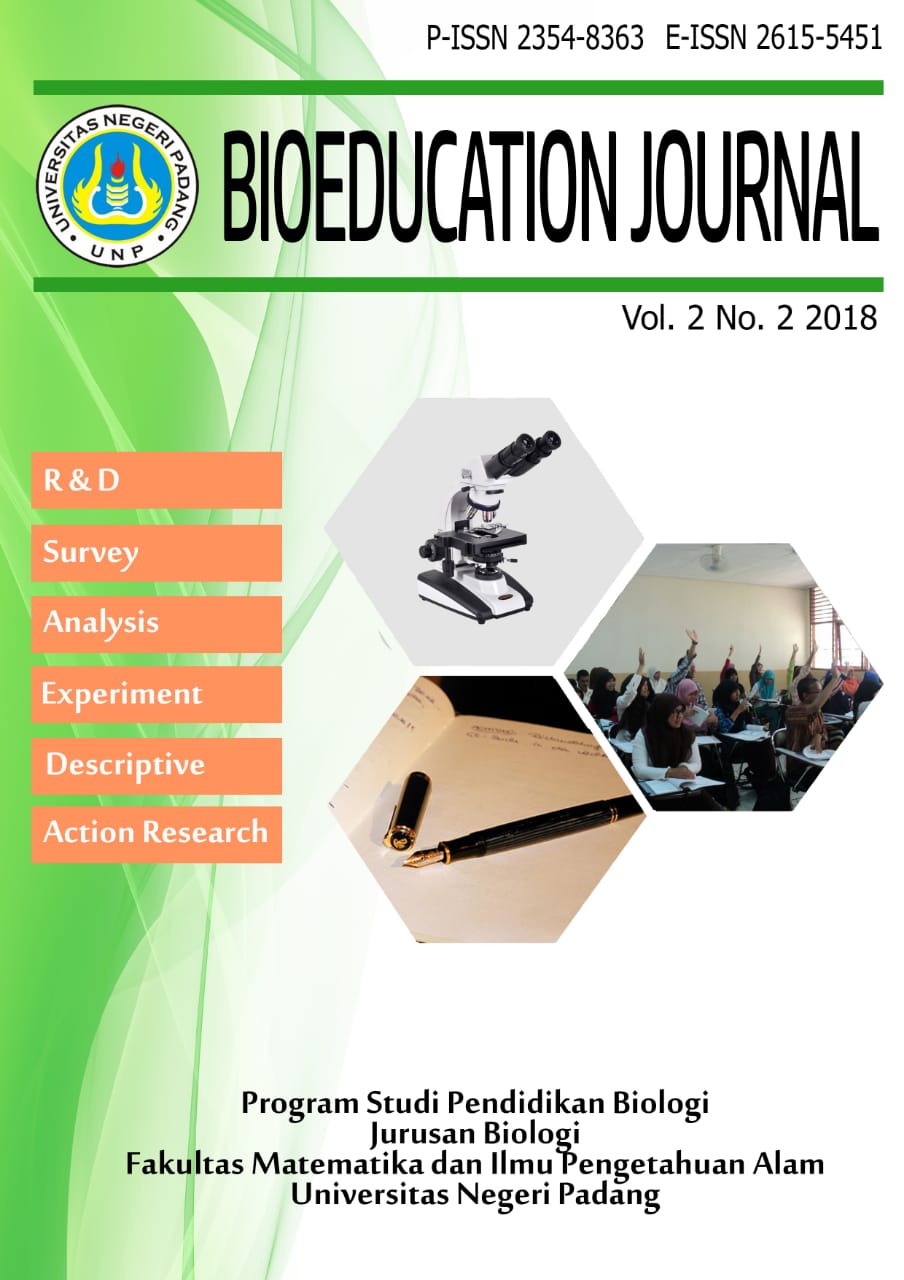 This work is licensed under a Creative Commons Attribution-NonCommercial-ShareAlike 4.0 International License.

Abstract viewed = 266 times pdf (Bahasa Indonesia) downloaded = 237 times