The Improvement of Critical Thinking Ability Students Through Inquiry Learning Model about Excretory System Class VIII in SMPN 11 Padang
MEZI YULIA ASTUTI

MEZI

Heffi Alberida

Universitas Negeri Padang

Yosi Laila Rahmi

Universitas Negeri Padang
Keywords:
Inquiry Model Learning, Critical Thinking Ability
Abstract
Critical thinking is a purposeful and clear process used in mental activities such as problem solving, decision making, persuading, analyzing assumptions and conducting scientific research. The ability of thinking critically is  effected by the competence of knowledge acquired by the students. Based on midterm exam, the result showed that 87,5% of students do not meet the minimum exhaustiveness criteria (KKM). One way that can be condusted to overcome it is applying inquiry learning  model.the purpose of this research is to find out the effect of inquiry learning model towards studens' critical thinking skills. The research is Quasi experiment research by using Randomized Control-Group Research Posttest Only Design. The population is VIII class student in SMPN 11 Padang. The sample is VIII.B students as an  experiment class and VIII.C students as a control class, that are selected by purposive sampling technique. The instrument used is final test in form of essays to see the effect of inquiry laerning model of critical thinking ability of students. The hypothesis in this research is examinated by t-test, because the data is distributed normally and it has homogenen variation. Based on the research, the result showed that critical thinkingability t arithmetic > t table (4,23 > 1,67). Therefore, the hypothesis is accepted it can be concluded than applying inquiry learning model can give positive effecttowards students competence of critical thinking ability about excretion system in VIII class SMPN 11 Padang. 
References
Aini, S. 2014. Pengaruh Ingatan dan Kemampuan Berpikir Kritis Terhadap Hasil Belajar Siswa dalam Mata Pelajaran Fisika di MA Madani Alauddin Paopao Kabupaten Gowa. Penelitian Tidak Diterbitkan. Makassar: Universitas Islam Negeri Alauddin Makassar.

Arikunto, S. 2009. Dasar-dasar Evaluasi Pendidikan. Jakarta: Bumi Aksara.

Ennis, R H. 1993. Critical Thinking Assessment. International Journal, 32(3). 179-186.

Ennis, R H. 2011. The Nature of Critical Thinking: An Outline of Critical Thinking Dispositions and Abilities. Presentation at the Sixth International Conference on Thinking at MIT, Cambridge, University of Illinois, dilihat 10 Oktober 2017, (http://faculty.ed.uiuc.edu/rhennis).

Falahudin, I. 2016. Pengaruh Model Pembelajaran Inkuiri Terbimbing Terhadap Kemampuan Berpikir Kritis Siswa pada Pembelajaran Materi Pengelolaan Lingkungan di SMP Negeri 2 Tanjung Lago Kabupaten Banyuasin. Jurnal Bioilmi, 2(2). 92-101.

Hanafiah, dkk. 2012. Konsep Strategi Pembelajaran. Bandung: PT Refika Aditama.

Lufri, dkk. 2007. Strategi Pembelajaran Biologi. Padang: Universitas Negeri Padang Press.

Ningsih, S.M. 2012. Implementasi Model Pembelajaran Process Oriented Guided Inquiry Learning (POGIL) untuk Meningkatkan Kemampuan berpikir Kritis Siswa. Unnes Physics Education Journal, 1(2). 44-52.

Permendikbud No. 58 tahun 2014 tentang Kurikulum 2013 Sekolah Menengah Pertama.

Sanjaya, W. 2012. Strategi Pembelajaran. Bandung: Kencana.

Sudjana, N. 2005. Dasar-dasar Proses Mengajar. Bandung: Sinar Baru Algesindo.

Trianto. 2012. Mendesain Model Pembelajaran Inovatif-Progresif. Jakarta: Kencana Prenada Media Group.

Usdalifat, S. 2016. Pengaruh Model Pembelajaran Inkuri Terhadap Kemampuan Berpikir Kritis dan Keterampilan Proses Siswa pada Mata Pelajaran IPA Biologi Kelas VII SMP Negeri 19 Palu. Jurnal Sains dan Teknologi Tadulako, 5(3). 1-10.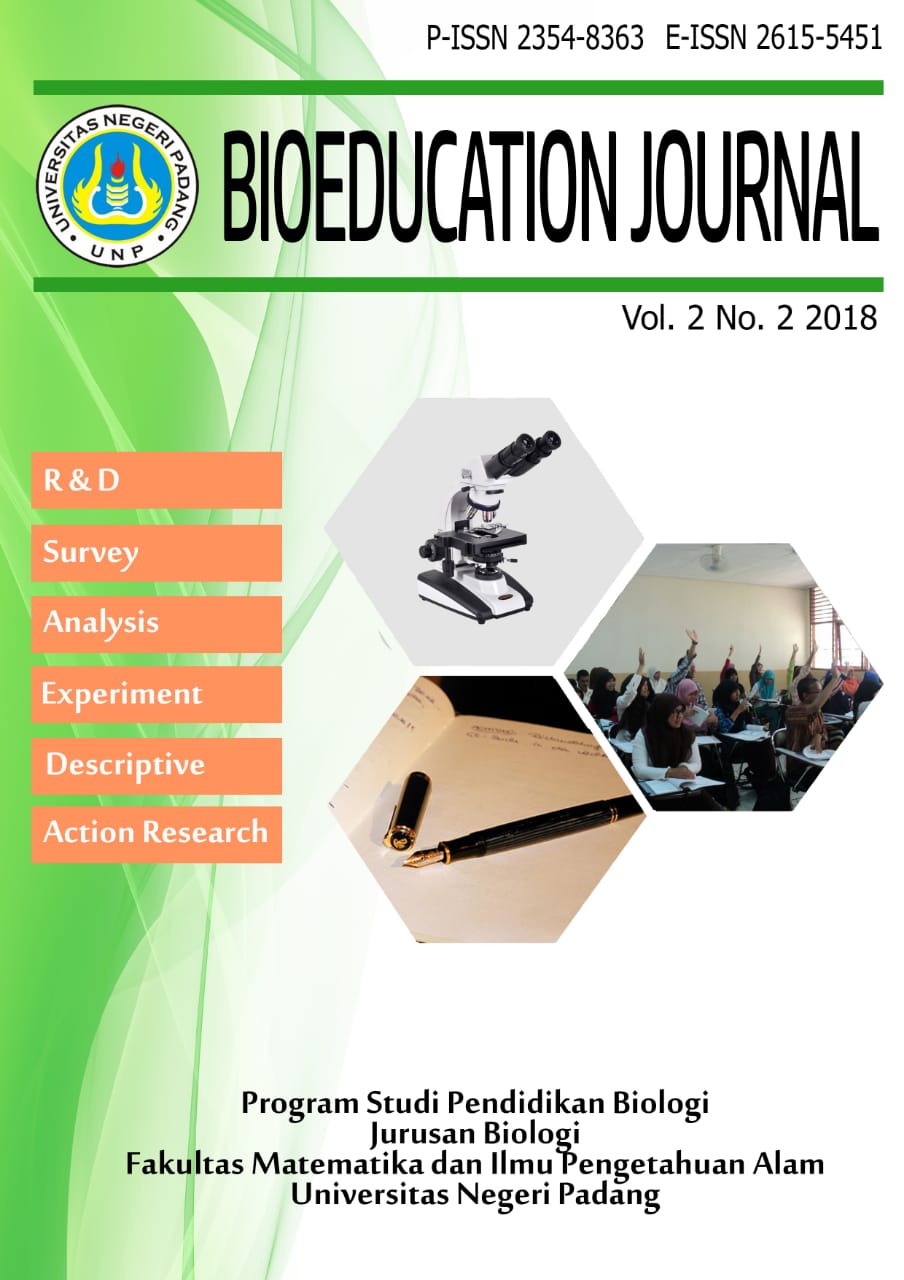 This work is licensed under a Creative Commons Attribution-NonCommercial-ShareAlike 4.0 International License.

Abstract viewed = 158 times pdf (Bahasa Indonesia) downloaded = 181 times