Development of Experimental Student Worksheets Based on Scientific Approach for Student Grade XI Semester 1
Indri Kasih

UNP

Ristiono Ristiono

Universitas Negeri Padang

Rahmawati Darussyamsu

Universitas Negeri Padang
Keywords:
2013 Curricullum, Scientific Approach, Lab Work and LKPD
Abstract
LKPD Experiment based on Scientific Approach can guide students in developing a concept from the materials they have learned in lab work activity. Based on the matter, a study had done which aimed to produce LKPD experiment using Scientific Approach Based for the students grade XI at SMA/MA it was valid and practical.This study was an elaborated study which had three stages in conducting the research. There was known as 4D model which were define, design, develop. The data were collected by using validity questionnaire and practicality. The subject of this study were 2 biology lecturers, and 2 biology teachersas the validators, 2 biology teachers and 25 students grade XI Science at SMAN 1 Batusangkar, as the practicalitator. The data of this study was primary data which was validity and practical data. The result of this study showed that the LKPDexperiment based on scientific approach for the students grade XI 1st Semester SMA/MA was really valid and really practical.
References
Daryanto. 2014. Pendekatan Pembelajaran Saintifik Kurikulum 2013. Yogyakarta: Penerbit Gava Media.

Depdiknas. 2008. Panduan Pengembangan Bahan Ajar. Jakarta: Direktorat Jenderal Manajemen Pendidikan Dasar dan Menengah.

Kemendikbud. 2013. Permendikbud No. 69 Tahun 2013 tentang Kerangka Dasar dan Struktur Kurikulum SMA/MA.

Lufri. 2007. Strategi Pembelajaran Biologi. Padang: UNP Press.

Nasution. 2008. Mengajar Dengan Sukses. Jakarta: Bumi Aksara.

Purwanto, N. 2012. Prinsip-prinsip dan Teknik Evaluasi Pengajaran. Bandung: Remaja Rosdakarya.

Riduwan.2012. Pengantar Statistik Sosial. Bandung: Alfabeta.

Sudjana, N dan Ahmad R. 2009. Teknologi Pengajaran. Bandung: Sinar Baru Algensindo.

Sunarti dan Selly R. 2014. Penilaian dalam Kurikulum 2013: Membantu Guru dan Calon Guru Mengetahui Langkah-langkah Penilaian Pembelajaran. Yogyakarta: ANDI.

Supranto, S. 2000. Statistik (Teori dan Aplikasi Edisi Keenam). Jakarta: Erlangga.

Trianto. 2010. Model Pembelajaran Terpadu Konsep, Strategi, dan Implementasinya Pada Kurikulum Tingkat Satuan Guruan (KTSP). Jakarta: Kencana Prenada. Media.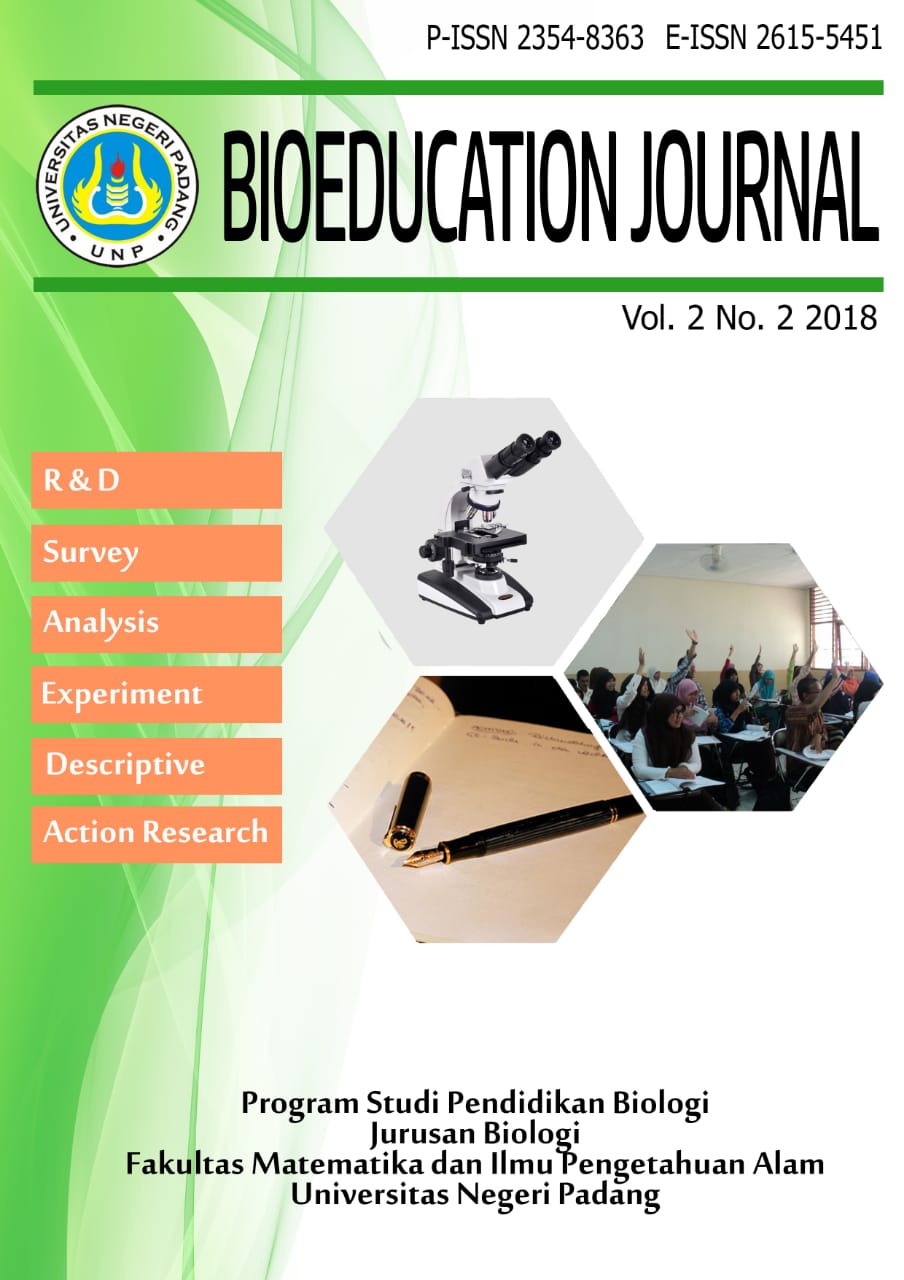 This work is licensed under a Creative Commons Attribution-NonCommercial-ShareAlike 4.0 International License.

Abstract viewed = 151 times pdf (Bahasa Indonesia) downloaded = 230 times