Development of Students Worksheet Nuanced of Emotional Spiritual Quotient about Cell, Organ, Tissue and Organism for Seventh Grade Students of SMP/MTs
Ghean Azrin Mirza

UNP

Ristiono Ristiono

Universitas Negeri Padang

Dezi Handayani

Universitas Negeri Padang
Keywords:
Students worksheet, ESQ, Cell, Organ, Tissue and Organism
Abstract
Education is a conscious effort to improve the quality of learners both from aspects of science, attitude, and skills. During this school education focuses on the development of intellectual intelligence (IQ), which absorbs as much science but not yet touched on emotional intelligence (EQ) and spiritual (SQ). These three potentials should have been integrated in biology learning. Based on the results of research that has been done, the product results are LKPD nuanced ESQ on the cell material for students of grade VII SMP / MTs. Result of validity test with value of 81,37% by validator fulfill valid criterion, Result of validity in terms of feasibility of content, language, presentation and graphics. Practical test result with 92,53% value by teacher with very practical criteria from ease of use, time efficiency and forgiveness, while the result of practical test by student with 82,65% practical criterion from convenience, and benefit.
References
Anggariyani. 2006. Pengembangan LKS Pesawat Sederhana yang Disesuaikan dengan KBK untuk kelas VII. Tesis tidak diterbitkan. Surabaya: Universitas Negeri Surabaya.

Anonim. 2010."kamus". Online.http://ms.wikipedia.org/wiki/Kamus. Diaksestanggal 8 November 2013.

Ariani, Zulfia. 2012. "Pengembangan LKS Dilengkapi Contoh Mind Map Pada Materi Fungi Untuk Siswa Kelas X Semester 1 SMA Berdasarkan Kurikulum 2006 (KTSP)". Skripsi tidak diterbitkan. Padang : UNP.

Arikunto, S. 2005. Dasar-Dasar Evaluasi Pendidikan. Jakarta: Rineka Cipta.

Arsyad, Azhar. 2009. Media Pembelajaran. Jakarta: PT Raja Grafindo.

Asyhar, Rayandra. 2011. Kreatif Mengembangkan Media Pembelajaran. Jakarta: Gaung Persada Press.

Budiningsih, A. 2008. Belajar dan Pembelajaran. Jakarta: Rineka Cipta.

Delta, Dian. 2011. Pengembangan Lembar Kerja Siswa (LKS) Biologi SMA berbasis Kontekstual pada Materi Sistem Pernapasan Manusia. Skripsi. FMIPA. UNP.

Depdiknas. 2008. Panduan Pengembangan Bahan Ajar. Jakarta : Direktorat Jenderal Manajemen Pendidikan Dasar dan Menengah.

Djamarah, Syaiful Bahri dan Aswan Zain. 2006. Strategi Belajar Mengajar. Jakarta: Rineka Cipta.

Ilmadianti, S. 2013. " Pengembangan Lembar Kerja Siswa Berorientasi Pendekatan Keterampilan Proses Sains Pada Materi Fotosintesis Untuk Sekolah Menengah Pertama". Skripsi tidak diterbitkan. Padang : Universitas Negeri Padang.

Kustandi, C dan Sutjipto, B. 2011. Media Pembelajaran Manual dan Digital. Bogor : Ghalia Indonesia

Lufri dan Ardi. 2014. Metodologi Penelitian. Padang: UNP Press.

Lufri. 2007. Kiat Memahami Metodologi dan Melakukan Penelitian. Padang : Universitas Negeri Padang Press.

Lufri. 2007. Strategi Pembelajaran Biologi. Padang: UNP Press.

Lufri. 2010. Strategi Pembelajaran Biologi. Padang : Jurusan Biologi Universitas Negeri Padang

Majid, A. 2012. Perencanaan Pembelajaran Mengembangkan Standar Kompetensi Guru. Bandung : PT Remaja Rosdakarya Offset.

Nasution. 2008. Berbagai Pendekatan dalam Proses Belajar dan Mengajar. Jakarta: Bumi Aksara.

Ningsih, Sri. 2013. Pengembangan Multimedia Interaktif Dilengkapi Mind Map pada Materi Sistem Peredaran Darah untuk Sekolah Menengah Atas. Skripsi. Padang: Program Studi Pendidikan Biologi, UNP.

Pramono, Gatot. 2007. Aplikasi Component Display Theory dalam Multimedia dan Web Pembelajaran. Jakarta: PUSTEKKOM Depdiknas.

Prastowo, Andi. 2011. Panduan Kreatif Membuat Bahan Ajar Inovatif. Yogyakarta: Diva Press.

Purwanto, Ngalim. 2009. Prinsip-Prinsip dan Teknik Evaluasi Pengajaran. Bandung: PT. Remaja Rosdakarya

Riduwan. 2012. Pengantar Statistika Sosial. Bandung: Alfabeta.

Sadiman, A. S., dkk. 2006. Media Pendidikan. Jakarta : PT. Raja Grafindo Persada

Sadiman, Arief S,dkk. 2009. Media Pendidikan: Pengertian, Pengembangan, dan Pemanfaatannya. Jakarta: PT. Raja Grafindo Persada.

Slameto. 2003. Belajar dan Faktor-Faktor yang Mempengaruhinya. Jakarta: Rineke Cipta.

Sudrajat, Akhmad. 2010. Media Pembelajaran Berbasis Komputer. Online, (http://akhmadsudrajat.wordpress.com, diakses 10 Oktober 2013).

Sukardi. 2008. Evaluasi Pendidikan. Jakarta: Bumi Aksara.

Sultan. 2002. Pebandingan Prestasi Belajar Siswa yang Diajar Menggunakan LKS dan yang Tidak Menggunakan LKS pada Mata Pelajaran Biologi SMU, (Online). (http://radarsemarang.com, diakses 20 Mei 2015.

Syarif. Fauzan. 2014. Pengembangan Modul Pembelajaran Biologi Bernuasa ESQ Pada Materi Perubahan Lingkungan Untuk Siswa SMA/MA. Skripsi. FMIPA. UNP.

Undang-undang Dasar Republik Indonesia Nomor 20 tahun 2003.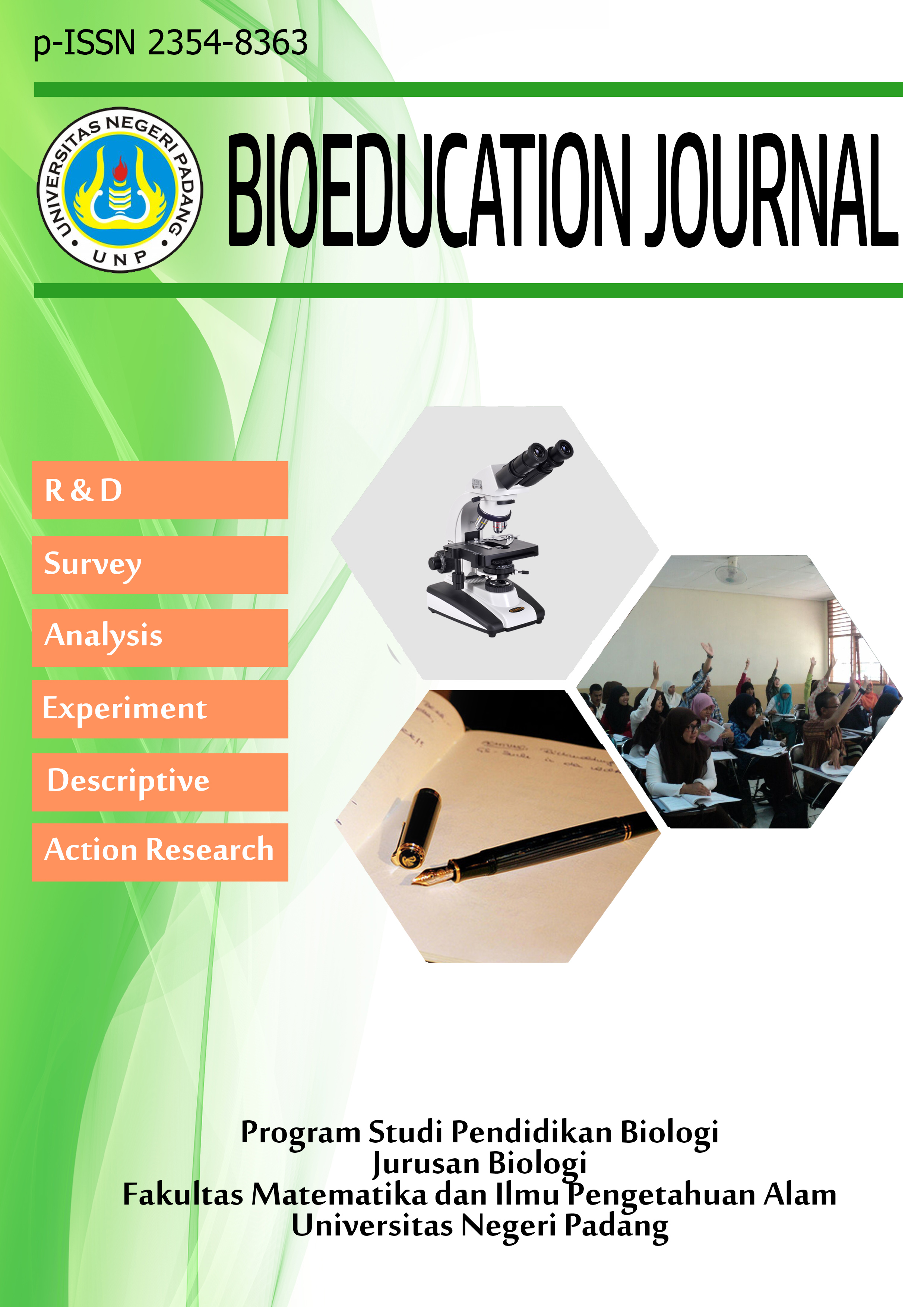 This work is licensed under a Creative Commons Attribution-NonCommercial-ShareAlike 4.0 International License.

Abstract viewed = 267 times pdf (Bahasa Indonesia) downloaded = 240 times