Development of Students Book Based on Metacognition on Immune System Material for Student Class XI SMA/MA
Al Fahrurz

Universitas Negeri Padang

Elsa Yuniarti

Universitas Negeri Padang

Zulyusri Zulyusri

Universitas Negeri Padang

Ganda Hijrah Selaras

Universitas Negeri Padang
Keywords:
students book, metacognition, immune system, 4D models
Abstract
The purpose of this research is to develop and show the validity and practically of students book about immune system material based metacognition for student class XI SMA/MA. Type research is research and development. This research applies 3 steps from 4D model, that the are define, design and develop. The subject of the this  research are 4 expert as validator, 2 teachers and 25 student classes XI MA Negeri Kab. Lima Puluh Kota. Data gained is categorized into primary data, as it is collected from validity and practically questionnaire which is directly filled by research subjects. The data was analyzed descriptively. The result of validity 3,65 in criteria very valid, practically by teachers is 3,64 criteria very practice and practically by students is 3,42 in criteria very practice. It can be concluded that the students book on immune system material based on metacognition for students class XI SMA/MA is very valid and practically.
References
Arsyad, A. 2010. Media pembelajaran. Jakarta: Rajawali Pers.

Asyhar, R. 2011. Kreatif Mengembangkan Media Pembelajaran. Jakarta: Gaung Persada Press.

Budiningsih, A. 2008. Belajar dan Pembelajaran. Jakarta : Rineka Cipta.

Depdiknas. 2008. Panduan Pengenbangan Bahan Ajar. Jakarta: Direktorat Pembinaan SMA, Dirjen Mandikdasmen.
Djamarah, S. B. 2010. Strategi Belajar Mengajar. Jakarta: Rineka Cipta.

Indah, R. Dewi, A. Endang, S. 2015. Validitas LKS Berbasis Strategi Metakognitif pada Materi Sistem Pernapasan Kelas XI SMA. Jurnal Berkala Ilmiah Pendidikan Biologi. Vol 4 (1), Hal (689-693).
Kemendikbud. 2014. Buku Guru Ilmu Pengetahuan Alam SMP/MTs Kelas VIII. Jakarta: Kementrian Pendidikan dan Kebudayaan.

Nusantara, B dan Andjrah, H. I. 2012. Perancangan Boardgame sebagai Media Pembelajaran Ilmu Pengetahuan Alam untuk Anak SD Kelas 1. Online. Diakses 27 Juni 2015.
Nasution. 2008. Berbagai Pendekatan dalam Proses Belajar dan Mengajar. Jakarta: Bumi Aksara.

Prawiradilanga. 2009. Prinsip-prinsip dan Teknik Evaluasi Pengajaran. Bandung. PT Rosdakarya.

Purwanto, N. 2009. Prinsip-prinsip dan Tekhnik Evaluasi Pengajaran. Bandung: Remaja Rosdakarya

Qadariah, N. 2016. Pengembangan Modul Biologi Berbasis Metakognisi Pada Materi Evolusi Untuk Siswa Kelas XII SMA/MA. Skripsi Tidak Diterbitkan. Universitas Negeri Padang.

Riduwan. 2012. Pengantar Statistika Sosial. Bandung: Alfabeta.

Rochmad. 2012. Model Pengembangan Perangkat Pembelajaran Matematika. Jurnal Kreano. 3(I): 59-72. Semarang: FMIPA UNNES.

Supranto, S. 2000. Statistik (Teori dan Aplikasi Edisi Keenam). Jakarta: Erlangga

Wijaya, C., dkk. 1988. Upaya Pembaharuan dalam Pendidikan dan Pengajaran. Bandung: Remadja Rosda Karya.

Wijaya, E. Y, Dwi A. S & Nyoto, A. 2016. Transformasi Pendidikan Abad 21 Sebagai Tuntutan Pengembangan Sumber Daya Manusia di Era Global. Prosiding Seminar Nasional Pendidikan Matematika. Vol 1(1), Hal (263-278).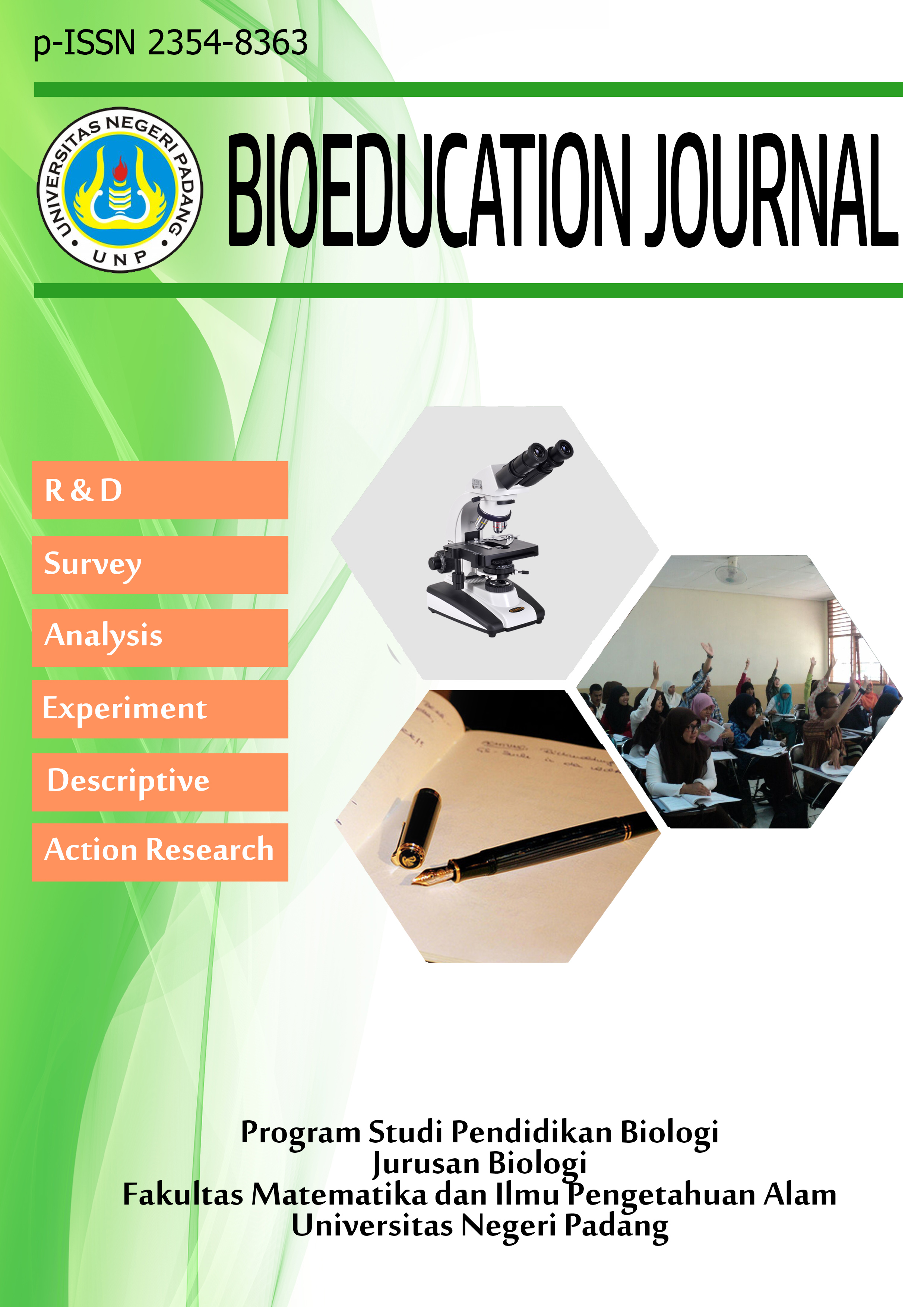 This work is licensed under a Creative Commons Attribution-NonCommercial-ShareAlike 4.0 International License.

Abstract viewed = 231 times pdf (Bahasa Indonesia) downloaded = 235 times