The Implementation of Learning Journal to Improve University Students' Motivation in Basic and Process of Learning Biology Subject
Ali Sadikin

Universitas Jambi
Keywords:
Learning Journal, Motivation, University Students
Abstract
This research conducted to improve university students' motivation in basic and process of learning biology subject in Biology Education Study Program Universitas Jambi through implementation of learning journal. This research have done by two cycle, which each cycle done with four steps, include planning, action, observation, and reflection. The result show that percentation score before action is 67% in enough criteria, in first cycle up to be 76,25% with good criteria, and in the second cycle increase to 76,25% also in good criteria. In conclusion, implementation of learning journal can increase learning motivation.
References
Aris, M. FR. 2007. Pengaruh Penerapan Jurnal Belajar terhadap Motivasi Belajar Siswa SMK Negeri 1 Udanawu Blitar. Skripsi tidak diterbitkan: UM.

Azwar, S.2006. Tes Prestasi, Fungsi dan Pengembangan Pengukuran Prestasi Belajar. Edisi II. Yogyakarta: Pustaka Belajar.

Arikunto, S. 2003. Dasar-dasar Evaluasi Pendidikan. Jakarta: Bumi Aksara.
Dimyati & Mudjiono. 2002. Belajar dan Pembelajaran. Jakarta: Dirjen Pendidikan Tinggi DEPDIKBUD.
Hamalik, Oemar. 2011. Proses BelajarMengajar. Jakarta: BumiAksara.

Hamzah B. Uno. (2011). TeoriMotivasidanPengukurannya: Analisis di BidangPendidikan. Jakarta: Bumiaksara

Harlita dan Probosari, R.M. 2010. Penggunaan Jurnal Belajar untuk meningkatkan penguasaan konsep embriologi hewan mahasiswa prodi pendidikan biologi FKIP UNS. Makalah dipresentasikan pada Seminar Nasional Pendidikan FKIP UNS 2010.

Junaedi, Edi. 2013. Penerapan Pembelajaran Dengan Menggunakan Jurnal Belajar Untuk Meningkatkan Prestasi Belajar Bangun Ruang Pada Siswa SMP Negeri 10 Malang Kelas VIII-H. Malang: Universitas Negeri Malang.
Muhibbuddin. 2008. Guru Sebagai JabatanProfesional: Handout. Banda Aceh: FKIP Unsyiah.
Mulyasa, E. 2003. Kurikulum Berbasis Kompetensi. Bandung: PT Remaja Rosdakarya
Prastowo, Andi. 2012. Panduan Kreatif Membuat Bahan Ajar Inovatif. Yogyakarta: DIVA Press.

Rustaman, Y. Nuryani. 2005. Perkembangan Penelitian Pembelajaran Inquiry dalam Pendidikan Sains. Makalah Seminar Nasional II Himpunan Ikatan Sarjana dan Pemerhati Pendidikan IPA Indonesia.

Sardiman. 2007. Interaksi dan Motivasi Belajar Mengajar. Bandung: Rajawali Pers.

Setryosari, Punaji. 2012. MetodePenelitianPendidikandanPengembangan.Jakarta: KencanaPrenada MG.

Sugiyono. 2009. Metode Penelitian Kuantitatif, Kualitatif, dan R & D. Bandung: Alfabeta.

Triana, Indah. 2012. Penerapan Jurnal Belajar Terhadap Peningkatan Hasil Belajar Siswa Pada Konsep Pencemaran Dan KerusakanLingkungan. Cirebon: IAIN Syekh Nurjati Cirebon.

Winkel. 2005. PsikologiPengajaran. Jogjakarta: Media Tama.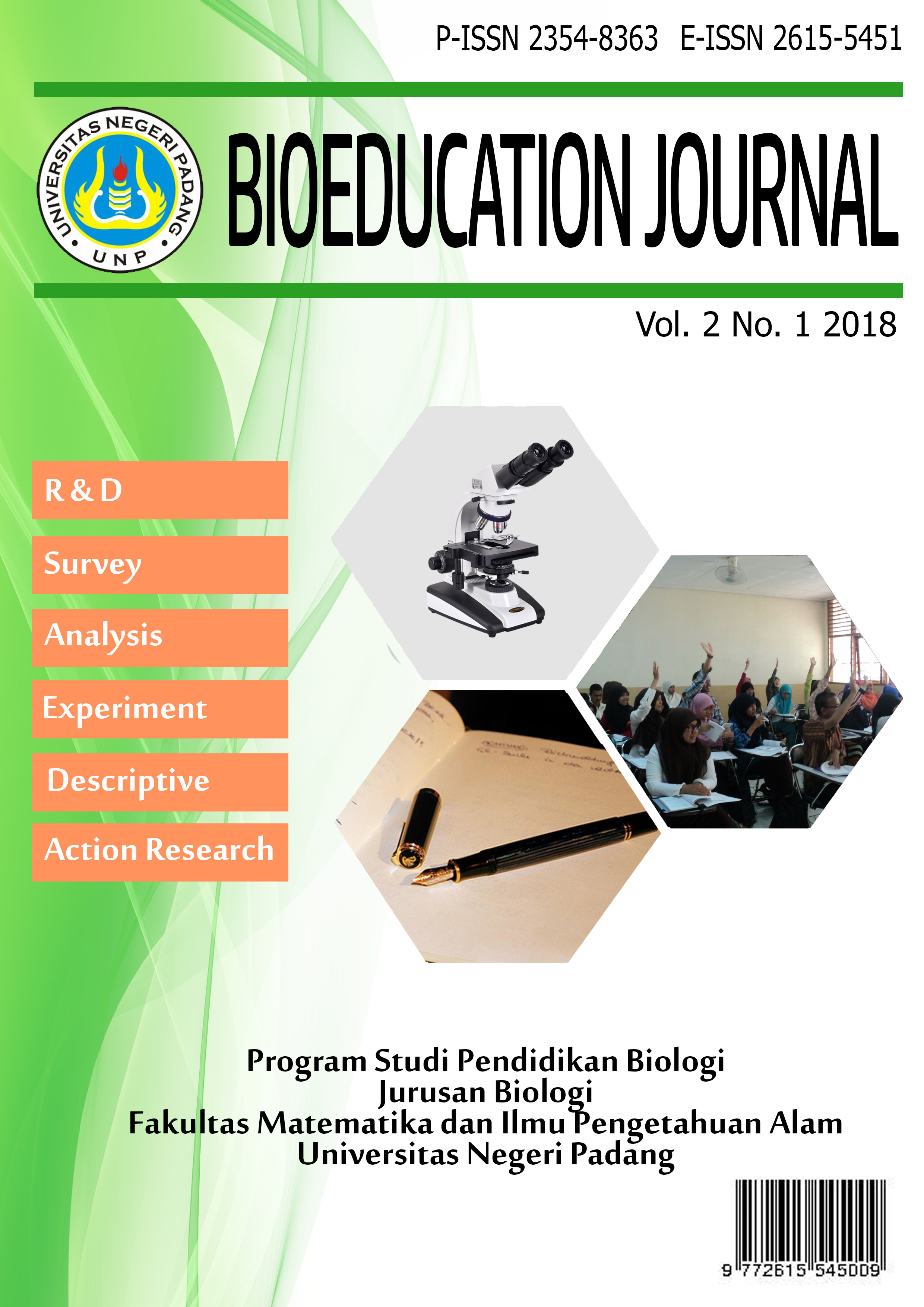 Abstract viewed = 688 times pdf (Bahasa Indonesia) downloaded = 563 times