The Correlation Between Level of Knowledge on Immunological Materials With Healthy Life Style Awareness of Pre-service Biology Teachers
Iseu Laelasari

IAIN Kudus

Izfina Maliyya

Institut Agama Islam Negeri Kudus
Keywords:
Healthy Lifestyle Awareness, Immunology, Level of knowledge, Pre-service Biology Teacher
Abstract
The study aims to analyze the relationship between level of knowledge on immunological materials with healthy lifestyle awareness of pre-service biology teachers. Researchers have used correlational research design with a sample of pre-service biology teacher as many as 30 randomly chosen. The instruments developed in this study of 20 multiple choice involving sub-matter of immunological system and 20 online-questionnaire distributed through survey heart app to reveal the healthy lifestyle awareness of participants. Data analysis uses statistical method of Pearson product moment and simply regression after a prerequisite test of normality, linearity and heteroscedasticity test. The results of this study reveal that coefficient correlation of the amount (0.428) means that there is a strong enough correlation between two variables, significant tests show a value of sig 0.018 <0.05.  Regression tests show 0.184 determinative coefficient which means that the level of knowledge on immunological material affect to healthy lifestyle awareness by18.4%. The result provides educational implications that it will require integration of healthy lifestyle awareness as part of a character that needs to be strengthened in biology aside.
References
Al-Hazmy, A., Kusumawati, R., & Aryoseto, L. (2015). The Influences of Tutorial Discussion on Achievement of The Learning Objectives Immunology Block at Faculty of Medicine Sebelas Maret Universuty. Nexus Pendidikan Kedokteran Dan Kesehatan, 4(1).
Amalia, L. (2020). Analisis Gejala Klinis dan Peningkatan Kekebalan Tubuh untuk Mencegah Penyakit Covid-19. Jurnal Jambura of Health Sciences and Research, 2(2).
Amalina, L. N., & Fitrah, D. R. (2020). Korelasi Tingkat Pemahaman Siswa Kelas XI IPA SMA pada Materi Sistem Pencernaan terhadap Perilaku Pemilihan Makanan 4 - 80. Ndonesian Journal of Mathematics and Natural Science Education, 1(2), 74–80.
Arikunto, S. (2021). Dasar-Dasar Evaluasi Pendidikan Edisi 3. Bumi Aksara.
Azrimaidaliza, A., Helmizar, H., & Yollanda, F. (2021). Meta Analysis: Study of Factors Relates Eating Disorder on Adolescents. Jurnal AAsyah: Jurnal Ilmu Kesehatan, 6(1), 17–22.
Cohen, L., Manion, L., & Morisson, K. (2007). Reseacrh Methods in Education. New York: Routledge.
Fajarsari, Y. (2021). HUBUNGAN TINGKAT PENGETAHUAN TENTANG HIPERTENSI DENGAN PERILAKU PENCEGAHAN TERJADINYA HIPERTENSI PADA JEMAAH HAJI DI WILAYAH KERJA PUSKESMAS KOTAGEDE. Poltekkes Kemenkes Yogyakarta.
Fitriani, S. (2011). Promosi Kesehatan Edisi 1. Yogyakarta: Graha Ilmu.
Fraenkel J R and Wallen N E. (2012). How to Design and Evalute Researche in Education 8th Edition. New York: Mc Graw-Hill Inc.
Hadiyanti, L. N., & Widodo, A. (2015). Pengembangan Bahan Ajar Materi Sistem Kekebalan Tubuh Manusia Berbasis Pengetahuan Awal Siswa SMA. Jurnal Pembelajaran Biologi: Kajian Biologi Dan Pembelalajarannya, 2(1), 39–50.
Herdiyanti, A. (2020). Pengaruh Rendahnya Pola Hidup Sehat terhadap Penyakit Hipertensi pada Masyarakat Pesisir di Kabupaten Pangkep. Academia.
Karo, M. B. (2020). Perilaku Hidup Bersih dan Sehat (PHBS) Strategi Pencegahan Penyebaran Virus Covid-19. Prosding Seminar Nasional Hardiknas, Vol.1, 1-4.
Kartika, Y. (2018). Analisis Kemampuan Pemahaman Konsep Matematis Peserta Didik Kelas VII SMP Pada Materi Bentuk Aljabar. Jurnal Pendidikan Tambusai, 2(4), 777–785.
Kartika, Y., Pramestian, F., Masayu, N., Hasanah, F., Fera, F., & Arifin, R. (2021). PENERAPAN POLA HIDUP BERSIH DAN SEHAT UNTUK MENINGKATKAN IMUNITAS TUBUH DI DESA KALIRANCANG, ALIAN, KEBUMEN. Jurnal Abdi: Media Pengabdian Kepada Masyarakat, 7(1), 78–87.
Kristanti, E. E., & Febrijanto, Y. (2021). Peningkatan Pengetahuan Pencegahan Covid-19 Melalui Edukasi Pentingnya Gizi Seimbang Pada Mahasiswa Tingkat II STIKES RS. Baptis Kediri. Pelita Abdi Masyarakat, 2(1), 21–31.
Kurnia, Y., & Siti, N. D. (2020). Bagaimana Pengetahuan, Sikap, dan Perilaku Masyarakat tentang Konsumsi Multivitamin/Suplemen Selama Pandemi Covid-19. Jurnal Kesehatan Masyarakat Khatulistiwa, 7(3), 123–134.
Kustantya, N., & Anwar, M. S. (2015). HUBUNGAN TINGKAT PENGETAHUAN DENGAN PERILAKU HIDUP BERSIH DAN SEHAT (PHBS) PADA LANSIA. Jurnal Keperawatan, 4(1), 29–38.
Laelasari, I., Auliana, A., Fadlillah, S., & Sobah, N. (2021). Knowledge Level Analysis of Pre-Service Biology Teacher on Fact and Myth Down Syndrome. 5(1), 29–34.
Nopiyanto, Y. E., Raibowo, S., Sugihartono, T., & Yarmani, Y. (2020). Pola Hidup Sehat Dengan Olahraga dan Asupan Gizi Untuk Meningkatkan Imun Tubuh Menghadapi Covid-19. Dharma Raflesia: Jurnal Ilmiah Pengembangan Dan Penerapan IPTEKS, 18(2), 90–100.
Qoriah, R., Susanti, S., & Haliza, I. (2020). Pola Perilaku Hidup Sehat terhadap Kesejahteraan Santri Ma'had UIN Walisongo Semarang. Jurnal Kesehatan Masyarakat, 1(1), 13–22.
Rahmawati. (2020). Pola Perilaku Hidup Sehat terhadap Kesejahteraan Santri Ma'had UIN Walisongo Semarang. Jurnal Kesehatan Masyarakat, 1(1), 13–22.
Rolando, L. G. R., Salvador, D. F., Vasconcellos, R. F., & Luz, M. R. (2021). TPACK for Meaningful Learning Survey: "Paths" for Professional Development of Biology Teachers in Brazil. Turkish Online Journal of Educational Technology, 20(2), 169–181.
Ruska, A., Gukguk, R. R., Zahara, P., Anjaya, A., Amran, A., Savitri, A., & Hudori, M. (2022). Peningkatan Pemahaman Penerapan Pola Hidup Bersih dan Sehat Pada Anak-anak dan Remaja. National Conference for Community Service Project (NaCosPro), 4 (1), 357–361.
Salman, Y., & Norhasanah, N. (2021). Edukasi gizi untuk meningkatkan imunitas tubuh. Jurnal Pengabdian Harapan Ibu (JPHI), 3(1), 20–29.
Sani, F. N. (2011). Hubungan Tingkat Pengetahuan Sehat - Sakit Dengan Sikap Mahasiswa Universitas Muhammadiyah Surakarta Tentang Perilaku Hidup Bersih Dan Sehat. KesMaDaSKa, 2(2), 12–18.
Saraswati, H. (2017). Modul Imunologi. Universitas Esa Unggul.
Sulfandi, S. (2021). PENTINGNYA EXERCISE DALAM MENINGKATKAN SISTEM IMUN DI ERA PANDEMIC MENCEGAH COVID-19 ITKES WIYATA HUSADA SAMARINDA. Jurnal Physio Education of Indonesia, 1(1), 71–80.
Tri Hartati, S. (2012). Hubungan Tingkat Pengetahuan Tentang Kesehatan Reproduksi Wanita Dengan Perilaku Pencegahan Keputihan Pada Siswi Di Sma Negeri 1 Jatinom. Universitas Muhammadiyah Surakarta.
Widiastuti, I. A. E. (2020). Respon Imun pada Olahraga. Jurnal Kedokteran, 9(2), 165–173.
Yani, W. P., Basyuri, A., Hidayat, A. N., Hersila, N., Iskandar, P., Utari, P. P., … Fitriana, N. (n.d.). Tingkat Pengetahuan dan Sikap Tentang Toksoplamosis pada Mahasiswa/I Program Studi Biologi UIN Syarif Hidayatullah Jakarta. Prosiding Seminar Nasional Biologi 3. Universitas Negeri Padang.
Yuliana. (2020). Olahraga yang Aman di Masa Pandemi Covid-19 untuk Meningkatkan Imunitas Tubuh. Jurnal Bali: Membangun Bali, 1(1).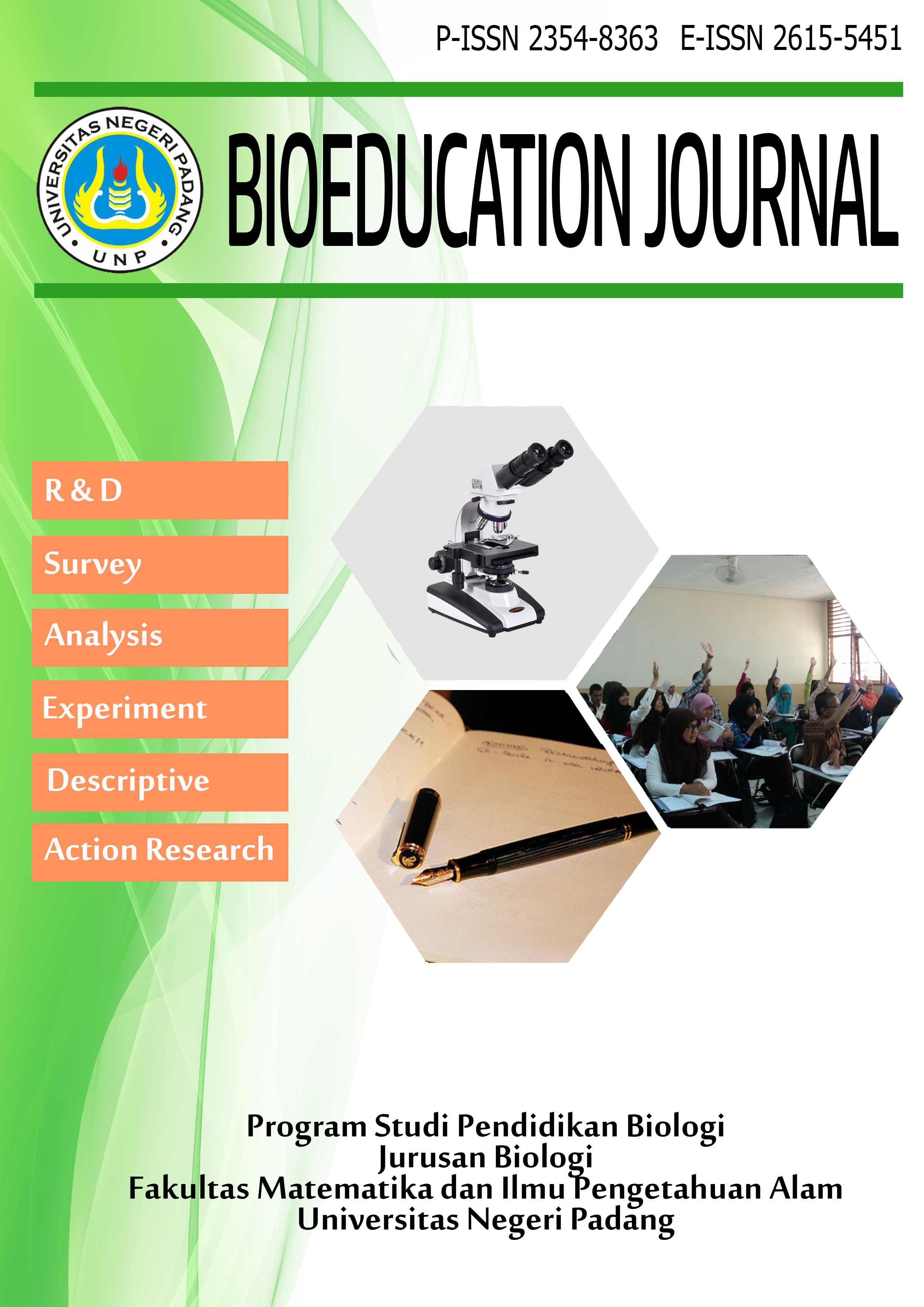 This work is licensed under a Creative Commons Attribution-NonCommercial-ShareAlike 4.0 International License.

Abstract viewed = 113 times pdf downloaded = 77 times