Development of Herbarium Book as Biology Instructional Media in Plant Morphology Subject for Biology Education Undergraduate Students, University of Pasir Pangaraian
Dahlia Dahlia

Universitas Pasir Pengaraian
Keywords:
Herbarium Book, Plant Morphology, Learning Media
Abstract
The development of instructional especially media of a herbarium book is an innovation that aims to assist students in searching directly the object of leaf morphology studies. This development research starts from the needs analysis stage which is used to gather information, planning in media making, media design, media making, after that product validation by a team of media experts and material experts, then testing individual products, small groups and large groups. The subject of this product testing were students of the Biology Education Study Program at Pasir Pengaraian University. The results of the validation by the material experts showed that the quality of learning media using the herbarium book on leaf morphology material was included in the "very feasible" criteria, with an average score of 86.46%. The results of validation by media experts are included in the "very feasible" criteria, with an average score of 88.54%. Individual assessment obtained the criteria of "very feasible", with an average score of 84.16%. Judgement from small groups obtained a percentage of eligibility of 81.45% with very feasible criteria, and judgement from large groups of 83.95% with "very feasible" criteria. The results of the development of herbarium book media are very decent.
References
Afif, M., Wisanti dan Isnawati. 2014. Pengembangan Herbarium Paku-Pakuan sebagai Media Realita dalam Materi Keanekaragaman Tumbuhan untuk Siswa Kelas X SMA. Jurnal BioEdu 3(3): 472-478.

Arsyad,A. 2011. Media Pembelajaran. Jakarta: Rajawali Press.

Asyhar,R. 2011. Kreatif Mengembangkan Media Pembelajaran. Gaung Persada Press: Jakarta.
Dikrullah. 2017. Pengembangan Herbarium Book Sebagai Media Pembelajaran Biologi Pada Mata Kuliah Struktur Tumbuhan Tinggi Mahasiswa Jurusan Pendidikan Biologi Uin Alauddin Makasar. Skripsi. 1:140.

Dimyati dan Mudjiono. 2013. Belajar dan Pembelajaran. Jakarta: Rineka Cipta.

Febriani, N.,Upik, Y., dan Gardjito. Pengembangan Media Pembelajaran Berupa Awetan Daun Untuk Mata Kuliah Struktur Tumbuhan Pada Prodi Pendidikan Biologi. Prosiding semirata FMIPA univ. Lampung. 159-163.

Fitriyana, E. 2016. Pengembangan Herbarium Sheet Tumbuhan Paku (Pteridophyta) Sebagai Media Pembelajaran Pada Materi Tumbuhan Paku di SMA. Skripsi. Jurusan Biologi Universitas Semarang.

Hariyoto, F.D.A., Indah, N.K. dan Kuntjoro, S. 2013. Pengembangan Media Pembelajaran Blog pada Materi Pencemaran Lingkungan untuk Kelas X. Jurnal BioEdu 2(2): 123-127.

Hasugian,H., dan Napitupulu, M,A. 2016. Perbedaan Hasil Belajar Spermatophyta Siswa yang Diajar Menggunakan Media Herbarium Di Kelas X SMA Negeri 2 Kisaran. Jurnal Pelita Pendidikan. 4 (3): 40-44.

Indah, N.K., Wisanti dan Ambarwati. 2008. Penerapan Teknologi Pembuatan Awetan Botani Sebagai Upaya Pemenuhan Media Biologi dalam Proses Belajar Mengajar Biologi bagi Guru-Guru SMA dan Madrasah Aliyah di Lamongan. Jurnal BioEdu 9(1): 1-9.

Mertha, I.G., Idrus,A,I.,Ilhamdi, M,L dan Zulkifli. 2018. Pelatihan Teknik Pembuatan Herbarium Kering Dan Identifikasi Tumbuhan Berbasis Lingkungan Sekolah Di SMAN 4 Mataram. Jurnal pendidikan dan pengabdian masyarakat. 1 (1): 82-87.

Murni, P., Muswita., Harlis., Yelianti,U., dan Kartika, W.D. 2015. Lokakarya Pembuatan Herbarium Untuk Pengembangan Media Pembelajaran Biologi Di MAN Cendikia Muaro Jambi. Jurnal Pengabdian Pada Masyarakat. 30 (2): 1-6.

Sobirin, M., Isnawati dan Ambarwati, R. 2013. Pengembangan Media Awetan Porifera untuk Pembelajaran Biologi Kelas X. Jurnal BioEdu 2(1): 19-22.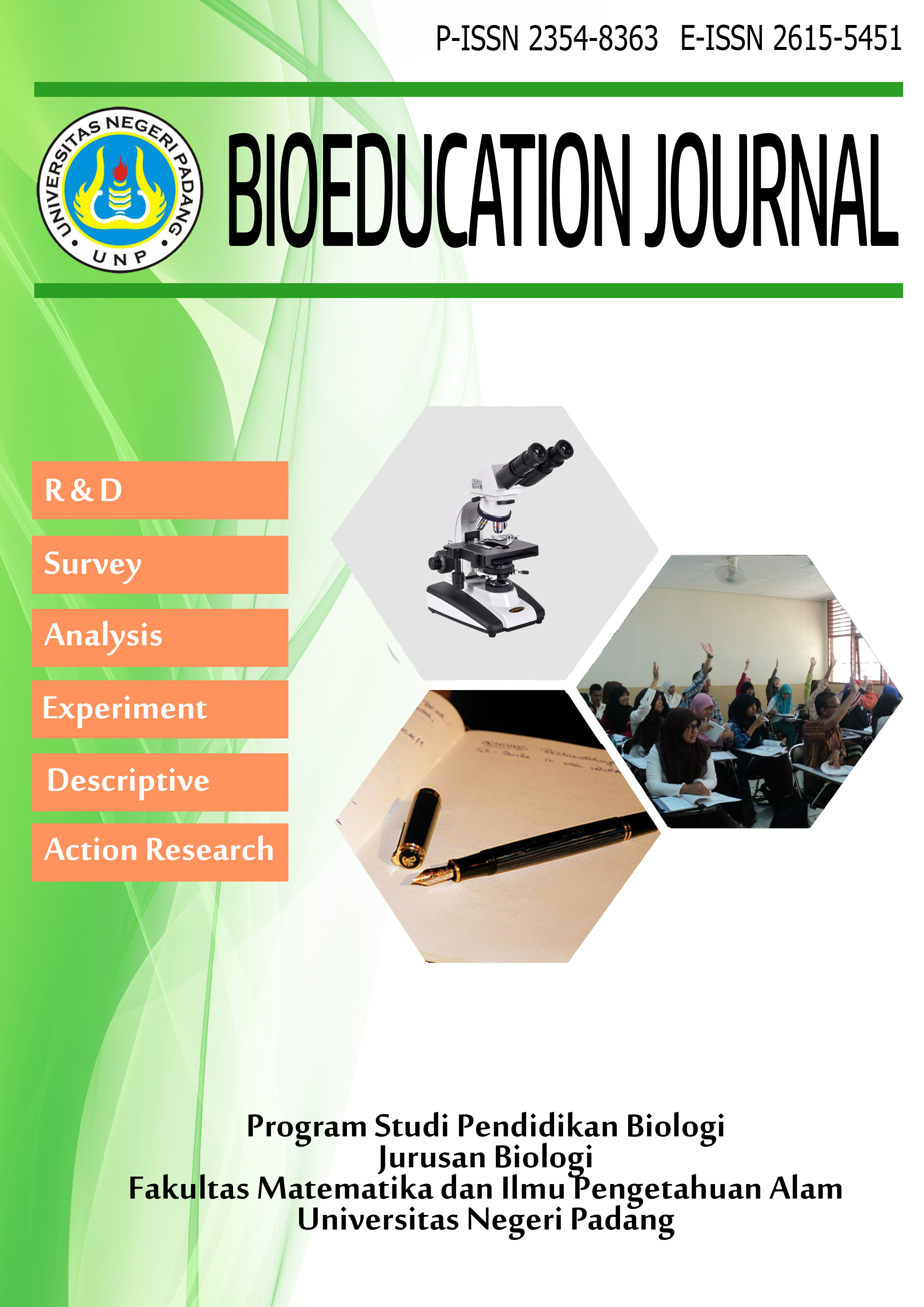 This work is licensed under a Creative Commons Attribution-NonCommercial-ShareAlike 4.0 International License.

Abstract viewed = 881 times pdf downloaded = 2054 times