The Application of Discovery Learning Model with Reward for Improving the Learning Activities of Biology Studens in Class XI MIA 2 SMAN 1 Padang
Indonesia
Zul Yusri

Universitas Negeri Padang

Putri Putri

Universitas Negeri Padang
Keywords:
Discovery Learning, Rewards, Biology Learning Activity
Abstract
Student activity is an important factor that must be a concern in the learning process, especially in biology subjects which have tended to be considered as many memorized and Latin subjects. One effort that can be done to improve student learning activities is through the application of discovery learning models along with the provision of rewards with the material used, namely animal networks. The purpose of this study was to improve the learning activities of Biology students in class XI MIA 2 SMAN 1 Padang. This type of research is Classroom Action Research (CAR) which was conducted in two cycles consisting of four stages, namely planning, implementing, observing, reflecting. namely students of class XI MIA 2 SMAN 1 Padang the number of students as many as 29 people. Data collection techniques were obtained through observation, questionnaires. The results showed that the application of discovery learning learning models can improve the learning activities of Biology students in animal network material. students are classified as good from 67.93% in Cycle I, increased to 78.62% in Cycle II, and increased by 10.72%.
References
Arikunto, Suharsimi dan Suhardjono, Supardi. 2012. Dasar-Dasar Evaluasi Pendidikan.. Jakarta: Bumi Aksara

Hamalik, O. 2008. Proses Belajar Mengajar. Jakarta: Bumi Aksara.

Kunandar, 2009.Langkah mudah Penelitian Tindakan Kelassebagai Pengembanagan Profesi Guru. Rajawali Press: Jakarta.

Kemendikbud. 2013. Materi Pelatihan Guru Implementasi Kurikulum 2013 SMP/MTs. Online, (http://psg15.um.ac.id/wpcontent/uploads/2013/08/SMP-IPA-rev.pdf, diakses Juli 2017).

Lufri. 2010. Strategi Pembelajaran Biologi.. Padang: UNP Press.

Purwanto, Ngalim. 2012. Prinsip-Prinsip Dan Teknik Evaluasi Pengajaran.

Riyantika, Viviani, Diah. Penerapan Model Pembelajaran Kooperatif Tipe Make A Match Dalam Meningkatkan Minat dan Hasil Belajar Siswa Kelas X 3 SMAN Pangudi Luhur Pada Materi Protista. Skripsi Tidak diterbitkan. Yogyakarta: Universitas Sanata Darma.

Rustaman, Nuryani. dkk. 2011. Materi dan Pembelajaran IPA SD Buku Materi Pokok. Jakarta: Universitas Terbuka.

Sardiman. 2012. Interaksi dan Motivasi Belajar –Mengajar. Jakarta: Rajawali Pers.

Sudarisman , Suciati. 2010. Membangun Karakter Peserta Didik Melalui Pembelajaran Biologi Berbasis Keterampilan Proses. Seminar Nasional Pendidikan Biologi FKIP UNS 2010.

Widyastuti Ellyza Sri. 2015. Penerapan Model Pembelajaran Discovery learning. http://www.academia.edu/29801815/PENERAPAN_MODEL_PEMBELAJARAN_DISCOVERY_LEARNING_PADA_MATERI_KONSEP_ILMU_EKONOMI. PADA MATERI KONSEP ILMU EKONOMI. Prosiding Seminar Nasional 9 Mei 2015.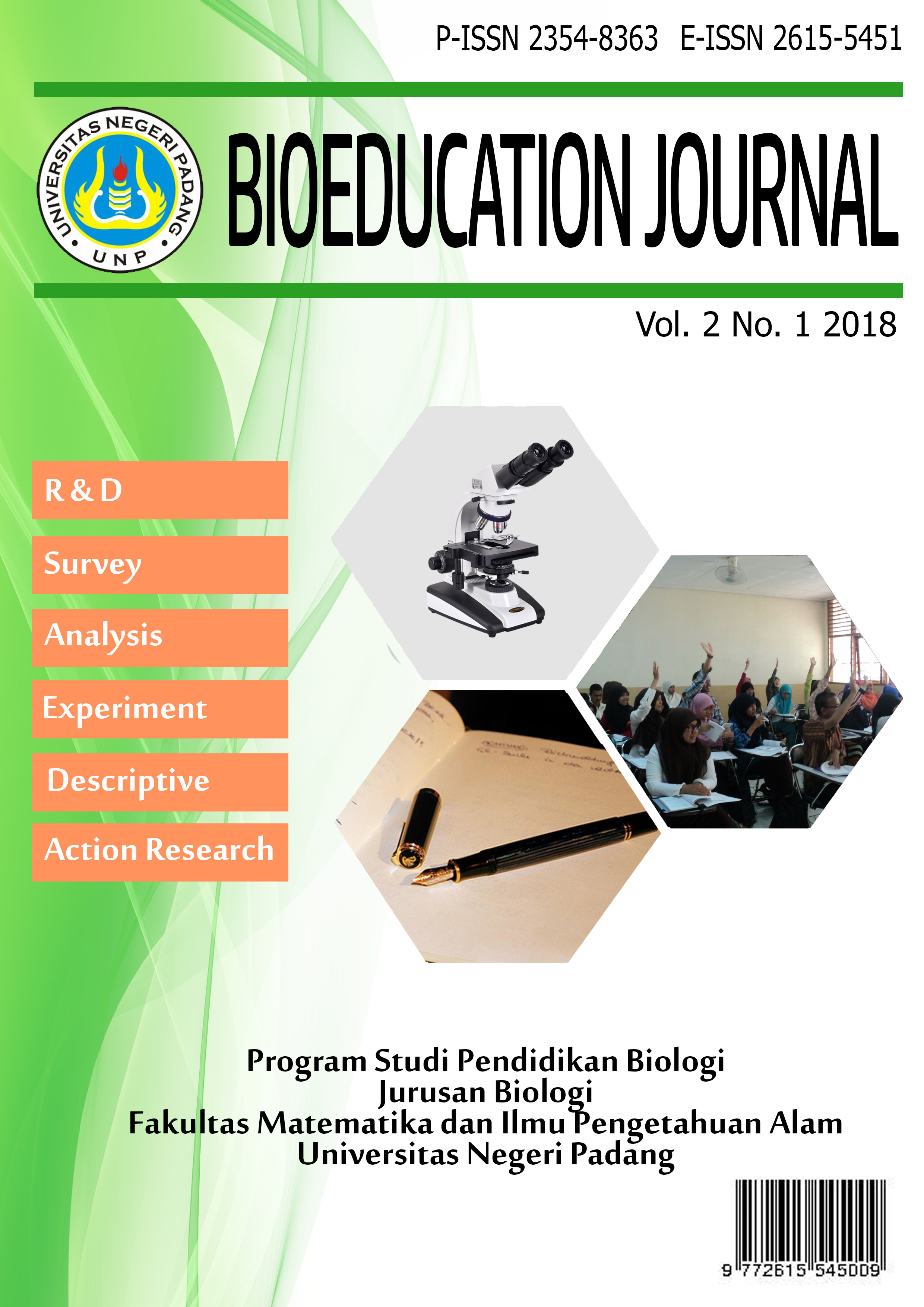 Abstract viewed = 132 times pdf (Bahasa Indonesia) downloaded = 140 times